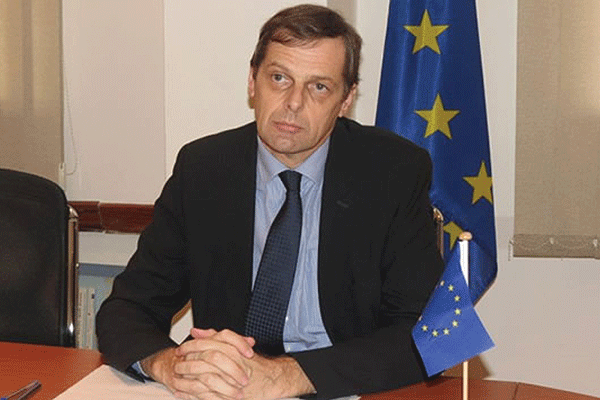 OUTGOING European Union (EU) ambassador to Zimbabwe, Philippe Van Damme has said although he has not personally met President-elect Emmerson Mnangagwa in the past few weeks, he was hopeful that government would urgently investigate reports of worsening human rights abuses in the country.
BY RICHARD CHIDZA
Addressing journalists during a public discussion organised by the Media Institute of Southern Africa (Misa)-Zimbabwe's Harare chapter on Wednesday, Van Damme suggested that the country had become divided, with little room for rationality.
His remarks came after Mnangagwa last week told the Independent Foreign Service that the EU envoy had apologised after failing to find proof of citizens brutalised in post-election reprisals.
"In this divisive environment, elections are an extremely emotional issue and I have seen in the past few months that it is difficult to have a rational debate on some issues. What I discovered in this particular case is that we only have two extremes, truth or lies or black and white," he said.
"I never spoke directly to the President in the past few weeks. We engage with some of my colleagues through different people in private messages," the EU ambassador said. Van Damme said he was not in a position to pass judgment on whether the reports of rights abuses were true or false.
"I don't judge, but we have been calling for all reports to be investigated by the right institutions. I am not an investigator, I am not the police. I am not judging anything, but (cases of rights abuses) must be investigated by the Human Rights Commission and the police, but we will not judge these reports on whether they are true or false. They have largely been documented," he said.
When it was put to the ambassador to categorically state if he had personally or through intermediaries apologised, Van Damme said: "We are not discussing figures or their exactness. What I know is that we have these reports."
He said the numbers of ordinary citizens abused or brutalised will change with time.
"The numbers evolve overtime and I am not sure which figures the President was commenting on or when the interview was conducted, but that is not the issue. The issue is there are reports which have changed a number of times, but must be followed up. They have an impact on the image of the country," Van Damme said.
He also took potshots at former President Robert Mugabe, describing the ex-Zanu PF leader as a "bitter old man" who must begin preparations for his death.
Van Damme said Mugabe must now be protected from people who wanted to manipulate him in his last days.
"Can I say the impression that he left me in 2015 on a rainy Independence Day celebration, it never changed my vision since then.
"I saw a very old frail man on the track being saluted by the army and an impression he gave me was that of a frail, old lonely man. You know with some of these old men, it's difficult to quit and this old man seems to be a bitter old man now for the way he was forced to leave power," Van Damme said.
"So I think that a way should be found to let him go in a dignified manner, now he has to prepare for his physical departure. I think we need to give him, encourage him to prepare for his final departure and try to protect him against those who try to manipulate him because he has given something to this country, whether we like it or not and the way things have been revolving around him in the last nine months, it's quite painful for him."