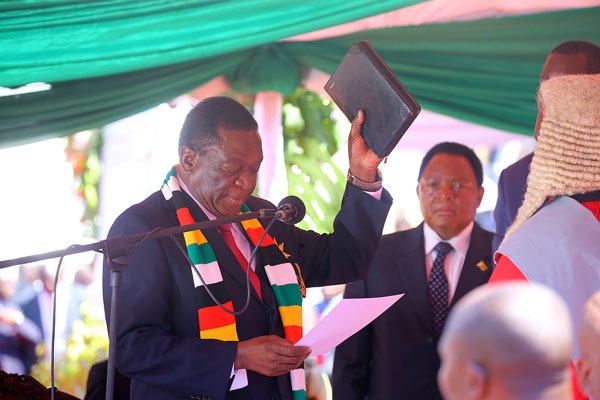 BULAWAYO residents and opposition political parties are sceptical that President Emmerson Mnangagwa will deliver on promises made during the campaign period, saying he was not different from his predecessor, Robert Mugabe, who failed to tackle graft and was a perpetrator of gross human rights violations.
BY SHARON SIBINDI
Mnangagwa was inaugurated on Sunday after winning the Constitutional Court challenge against MDC Alliance leader, Nelson Chamisa.
In separate interviews yesterday, Bulawayo residents said the Zanu PF leader would not be able to turn around the economy.
Zapu national spokesperson, Iphithule Maphosa said Mnangagwa was just "old wine in new bottles".
"There's not much we expect from the Zanu PF dictatorship that has gone into a fully-fledged military rule. The characters behind the throne are known human rights violators from Gukurahundi through to successive electoral violence incidence since 1980," Maphosa said.
"They staged a coup against their previous master Mugabe and that speaks heavily on their lack of principles. The economy will and cannot be rigged like they did with the recent elections, so they will never get it right in that perspective. Nothing new will come out of the government."
Maphosa said Mnangagwa should deal with corruption.
"We, however, do expect the most basics from them, that is, return to full constitutionalism, restoration of rights and people's dignity. They have to demonstrate zero tolerance to corruption by first prosecuting the many among themselves and putting in place measures to curb its perpetuation," he said.
"The Mnangagwa government must also drop its tribalism and ethnic supremacy tendencies. We expect them to fully implement devolution of power."
An elderly man identified as Khulu Moyo said he was not happy with the court's decision to uphold Mnangagwa's poll victory.
"It's really bad. What happened is day light robbery. The Zimbabwe Electoral Commission (Zec) just admitted that they made an error and when was this fixed? We were robbed," he said.
Sehlile Gumbo said the ball was now in Mnangagwa's court and he should play it safe knowing what he pledged during campaigns.
"He has been inaugurated, but we are watching him and we are looking forward to what he promised the people. He must not be like Mugabe who gave us false promises. I do not care who won the race, but what we want is Zimbabwe to be revived. He should know that our children have no jobs. We want them to have jobs and Zimbabwe should be a 'country' among other countries," she said.
"He should solve the cash crisis. Long back, we knew that one would go and get money without waiting in the queues. But now we no longer sleep in our homes, we sleep in queues, waiting for the money which will not even come. So we want him to fix everything like he promised. It's high time Zimbabwe has its own currency."
Mbekezeli Moyo said people should stop whining and come together to fix the country.
One vendor who preferred anonymity said Mnangagwa would revive local industries.
"I am saying ED pfee… He will revive the companies and I will also open my own company. Mugabe is gone that is history and Chamisa must go and be a headboy at school. He is still young, ruling the country needs very mature people. He lost and he must admit."