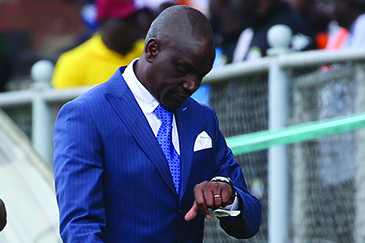 Dynamos……………..0 Yadah FC ……………0
Dynamos coach Lloyd Mutasa expressed satisfaction with his team's performance despite being held to a goalless draw in a Castle Lager Premiership tie at the National Sports Stadium yesterday.
BY TAWANDA TAFIRENYIKA
DeMbare had to finish the match with 10 men after defender Marshall Machazane was shown a straight red card three minutes from full time, with referee Lazarus Dirwai adjudging that he had brought down a Yadah player in an off-the-ball incident.
Mutasa said the point gained had boosted the confidence of his charges ahead of the Harare derby on Sunday.
He noted that while the energy level displayed by his charges was not what he had expected, he was happy with the overall performance.
"It's another game which we couldn't score and if you don't score, you don't win games. But I am satisfied with the overall performance of the team. The guys played well, but the energy level they displayed was not as good as we had expected. The point that we have gained has given us the confidence going into the Harare derby. I was not in a position to see whether Machazane deserved the red card, but I remember seeing Yadah players faking injuries to delay the game. For us, it's a drawback because Machazane is a key member of the team. We will miss him in the upcoming matches," Mutasa said.
His counterpart, Thomas Ruzive, was elated to secure a point against Dynamos.
"Indeed, we are happy. Coming from a defeat against Triangle, we needed to strategise against Dynamos. Our game plan was to try and frustrate them so that we get a positive result and I am glad that we got a point against Dynamos," Ruzive said.
Dynamos dominated the match early in the first half, with Brett Amidu missing a headed opportunity after 19 minutes following a brilliant cross from the right by Peace Makaha.
Yadah also fluffed a good chance in the second half, with Brian Mapfumo blazing his effort over the bar from near the penalty area on the 68th minute.
But as Dynamos piled on the pressure, Yadah FC began to run down the clock as they appeared content with a draw. Brian Madzokere took centre stage as he feigned injuries several times, but refused to be taken out on a stretcher as he sought to kill time.
Teams
Dynamos: S Chinani, P Makaha, O Mushure, M Machazane, G Mukambi, B Moyo, G Saunyama, B Amidu, (K Dhemere 50'), D Mukamba, E Mandiranga (P Mutasa 57'), T Macheke
Yadah FC: S Chimusoro, B Chikwenya, A Makopa, B Mapfumo, E Karembo, C Kaseke, (L Murape 54'), L Mavhunga, R Matema, S Sithole