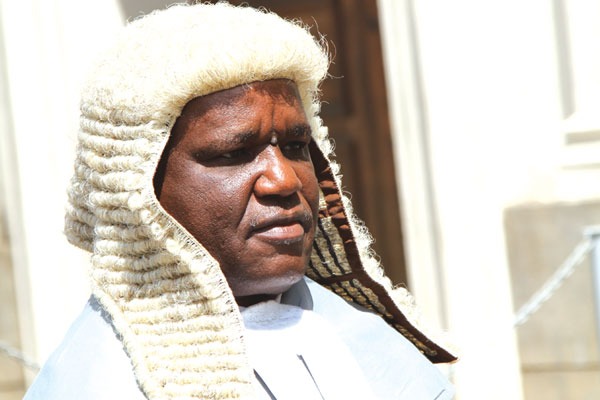 ANXIETY gripped Harare and other parts of the country as the Constitutional Court (ConCourt) began the much-anticipated hearing to determine the case in which MDC Alliance leader Nelson Chamisa is contesting President-elect Emmerson Mnangagwa's slender electoral victory on July 30.
OBEY MANAYITI/RICHARD CHIDZA/KENNETH NYANGANI
As most people went through their routines, they anxiously kept their ears and eyes to live broadcast of the proceedings on both State television and radio. All roads leading to the ConCourt and others nearby were closed, with police maintaining a heavy security presence in the vicinity.
Baton-wielding riot police officers were roving around the central business district, with their trucks stationed at different strategic areas, ready to deal with any form of disturbances that might arise as a result of the hearing.
Several ordinary people intending to follow the proceedings at the ConCourt were turned away as security details demanded accreditation.
As word started to spread that Chamisa's South African lawyers were denied access, some people who spoke to NewsDay in the morning expressed concern that the hearing would not be accorded the fairness that it deserved.
However, Zimbabweans generally went about their work despite the explosive court battle that could define the country for the next five years and probably beyond.
As lawyers sweated it out before the full bench of the ConCourt, ordinary citizens went about mainly selling their wares in the streets of Harare, with the country's biggest informal market in the capital's oldest and poorest suburb of Mbare ran as usual.
Admire Muranda, who was pushing a cart full of bananas, said while he was aware of the political goings-on, he had a family to feed.
"I know that the ConCourt is sitting and is to make a decision, but really, how does that change my situation at home? I will still have to go home with some food and cover the usual expenses," he said with a chuckle, in what seemed to be a summing up of the mood in the capital.
Sarah Toga, a vendor at Mbare's popular Mupedzanhamo market, seemed oblivious to the anxiety gripping the country's political leadership in particular.
"Life has to go on. As long as whatever they are doing does not result in some form of violence, as we saw on August 1, then whatever comes out of the courts is acceptable to us," she said.
Zimbabweans are a sceptical lot when it comes to talking to the media and this showed with many unwilling to come in the open to show their preference of how they hoped the court would rule.
Shops opened as usual, but a common sight was of people walking with earphones or headphones stuck in their ears, listening to radio stations or workers in shops constantly passing glances at the television as the proceedings, in a landmark move, were beamed live.
On the other hand, social media came to a standstill as Zimbabweans across the world passed comments that suggested a country literally on edge.
The performance of lawyers and judges was evaluated on end, while some even went to the extent of suggesting the nature of the judgement the court was likely to pass.
Political commentator Maxwell Saungweme said: "The battle is between Zim's finest legal brains Advocate (Thabani) Mpofu and Advocate (Lewis) Uriri. It looks so far that Advocate Uriri's job has been made easier by Mpofu's submissions and the bench's questions around primary evidence."
In Mutare, business was low as scores of workers took their time to follow the ConCourt proceedings.
Many residents of the Eastern border city spent the rest of the day glued to televisions sets around local bars and restaurants, among other areas, as they await anxiously for the ConCourt outcome expected tomorrow.
However, there was disappointment in some high-density suburbs such as Sakubva and Chikanga, as there was no electricity.
Chris Mwenzwa, an MDC Alliance supporter, said he was expecting the ruling to be in favour of Chamisa.
"I am just hoping that the ruling is going to favour us. The situation is, however, tense and everyone is following proceedings," he said. "We are hoping for a re-run, but we know we won the elections."
A Zanu PF supporter was also optimistic that the ruling would be in favour of his party's presidential contender, Mnangagwa.
"I think this is just a formality, but we are aware we won the elections. We are also going to win the court case," he said.
Mnangagwa was declared winner by the Zimbabwe Electoral Commission, with 50,8% of the vote, while Chamisa came a close second with 44,3%.
Chamisa has, however, poked holes into Mnangagwa's victory, arguing the Zanu PF leader did not have enough votes to avoid a run-off or better still, that his vote tally was understated, adding he should have been declared victor.
The ConCourt has wide powers to confirm Mnangagwa's win, nullify it and order a run-off or alternatively declare Chamisa President.