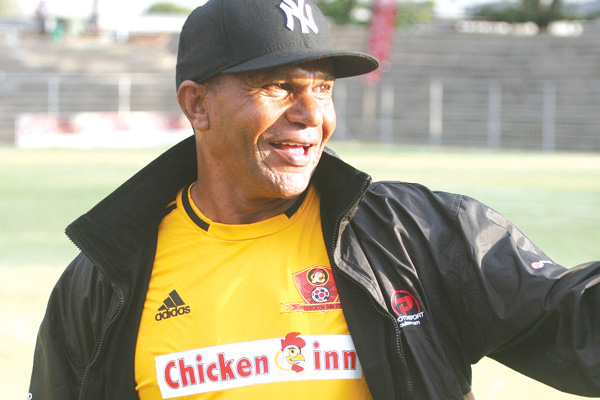 AFTER weeks of raised hopes, Chicken Inn fell flat with a home defeat to ZPC Kariba at the weekend and coach Joey Antipas has blamed the defeat on bad attitude, which he said had crept into his team.
BY FORTUNE MBELE
The weekend loss left Chicken Inn on 44 points, 11 behind log-leaders FC Platinum, who have also opened a four-point lead on second-placed Ngezi Platinum Stars after the Mhondoro-Ngezi-based side suffered a defeat to lowly Mutare City Rovers at Vengere Stadium on Sunday.
The three top teams are left with 10 games apiece before the end of the season, with FC Platinum hosting troubled Mutare City, while Ngezi are away to Highlanders and Chicken Inn play in Harare against Yadah.
After the 1-0 loss to ZPC Kariba on the back of six victories and two draws, Antipas, who also blamed the defeat on injuries to Clemence Matawu and George Majika and Moses Jackson's suspension, on Sunday said an invincibility tag was beginning to creep into the 2015 champions' dressing room and they lost focus.
"We have been on a good run and at times bad attitudes creep in. It was bad mentality. We were just not in it. Credit to ZPC Kariba, who were hungrier than us and in football, if you don't have that hunger and desire, then you struggle. What we need to do is psyche ourselves up and start preparing for the next game. Defensively, we were not very sound and even in attack where we used mostly young strikers. It's a pity they did not rise up," Antipas said.
Chicken Inn used youngsters Nicole and Nicholas Muchadeyi, who wasted a number of scoring opportunities and they were not as solid at the back, where Kudzai Chideu came in for the suspended Jackson.
Meanwhile, it's not looking good for Bulawayo City, who fell 2-0 to Triangle at Gibbo Stadium on Sunday, their 17th defeat of the season in 24 games as they continue to sink deeper. They are sitting on position 17 with a measly 15 points.
They have had three coaches this year — Darlington Dodo, Amini Soma-Phiri and Bekithemba Ndlovu — and have only won four matches and drawn three.
Bulawayo City face a big fight in the last 10 matches of the season if they are to escape relegation.