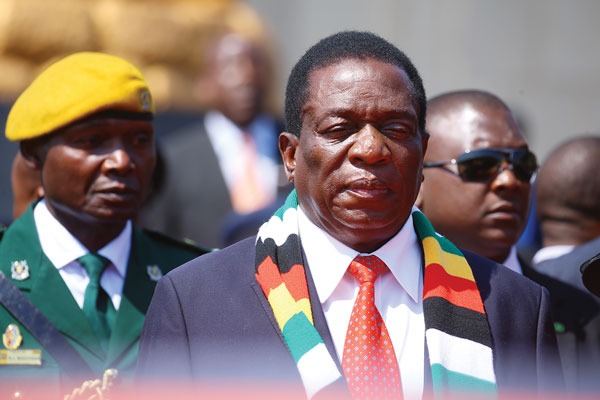 PRESIDENT Emmerson Mnangagwa will face his first greatest test when he selects his new Cabinet in which he will have to strike a balancing act between his old Zanu PF lieutenants' political interests and his new trajectory that business leads politics to arrest the country's economic spiral, analysts have warned.
BY EVERSON MUSHAVA
Mnangagwa was sworn-in on Sunday after the Constitutional Court cleared his way by dismissing MDC Alliance leader Nelson Chamisa's election petition that sought to overturn his narrow victory.
On Sunday he showed he was alive to the challenges lying ahead of him when he urged the country to redirect its energies from politics to the economy.
But analysts warned that Mnangagwa's dream could only be realised if he appoints the right people into the Cabinet, likely to be announced this week.
Zanu PF secretary for legal affairs in the Politburo, Munyaradzi Paul Mangwana said he hoped Mnangagwa will appoint young and energetic people into the Cabinet.
"I am expecting a young Cabinet, with young people, because if we look at the people we voted for, most of them are young and energetic. We have quite a lot of talent among our youths and we also expect more women in the new Cabinet," Mangwana said.
Political analyst Eldred Masunungure said Mnangagwa's biggest task will be to strike a fine balancing act between the interests of his political lieutenants — such as Oppah Muchinguri and Obert Mpofu, among others, who stood by him during trying times when he was persecuted by former President Robert Mugabe.
"The party and government have been conflated for a long period. Mnangagwa should balance party business and government work. He should go outside the party and select the best brains and retire the old guard to party, not government positions," Masunungure said. "Now that he has been voted (in), though his political nemesis (Chamisa) still disputes it, he now has the legitimacy. With his 50, 67%, he crossed the Rubicon and his power is now anchored on the electorate.
"I don't know how much room he has to manoeuvre, but I believe he now has the room. He should now look for the best technocrats, not all those who served under Mugabe. They are all contaminated."
Masunungure said Mnangagwa has the option of keeping technocrats he introduced into his former Cabinet and do away with the entire ministers who served under Mugabe.
He said the President could select all the five he was mandated by the Constitution from outside Zanu PF to boost investor confidence.
He said the likes of Alliance for People's Agenda leader Nkosana Moyo was a candidate to be reappointed into government to lead critical ministries like Finance, while career ministers could be reassigned to the party.
Academic Amon Murwira and Winston Chitando were technocrats roped in by Mnangagwa in his last Cabinet.
Some of the career ministers that could be reassigned were Obert Mpofu (Home Affairs) Patrick Chinamasa (Finance minister), Christopher Mutsvangwa (presidential special adviser), Oppah Muchinguri (Environment) and Simon Khaya Moyo (Energy minister).
South Africa President Cyril Ramaphosa reshuffled his Cabinet to appoint technocrats ahead of the ruling African National Congress party members in February to lure investors and balance party and business interests.
Another political analyst, Maxwell Saungweme said Mnangagwa should appoint a lean, inclusive and bi-partisan Cabinet of not more than 16 ministers from the NGO sector, academia and other opposition political parties.
He also urged the President to do away with deputy ministers.
"People like Nkosana Moyo are also skilled and talented. Vibrant and skilled MDC Alliance MPs must also be appointed. He needs both talent and pedigree," Saungweme said.
"He needs to drop deadwood such as Mpofu, Chinamasa, Mutsvangwa and the likes and reassign them to their party. He needs to appoint level-headed people who are reconciliatory and accommodate dissent from both MDC and Zanu PF."
United Kingdom-based former lecturer at Harare Polytechnic College Reward Mushayabasa said Mnangagwa has an uphill task of reviving an economy that was slapped with fresh United States sanctions and only competent people in his Cabinet could help him to realise that goal.
"What the country needs is a leaner Cabinet with some of the best brains in Zimbabwe. From his current crop of ministers, he can retain people like Murwira and Chitando and he should look beyond Zanu PF," Mushayabasa said.
"He can appoint technocrats like Nkosana Moyo, Simba Makoni, Noah Manyika, Mthuli Ncube, Tendai Biti and Welshman Ncube as a gesture of goodwill to the opposition and the Zimbabwe civil society. Such appointments will also help to inspire confidence among the international community."
Gladys Hlatshwayo, another political analyst, said Mnangagwa would most likely reappoint his old and tired ministers who lack agility and were unable to develop public policy solutions in the 21st century.
"Yes, we might see a few new faces in Cabinet but the majority will be these old and tired individuals that have been accused of grand corruption and incompetence," Hlatshwayo said.
But political analyst Alexander Rusero said Cabinet was not necessarily inspired by "personalities, but policies and sincerity in pursuing and implementing those policies."
"For as long as issues of corruption, nepotism and patronage are not dealt with by this Mnangagwa government, even if angels become Cabinet ministers there won't be much to do.
"Zimbabwe's problem no matter how big it may appear is premised on dealing with regime and elite preservation at the expense of national interests."