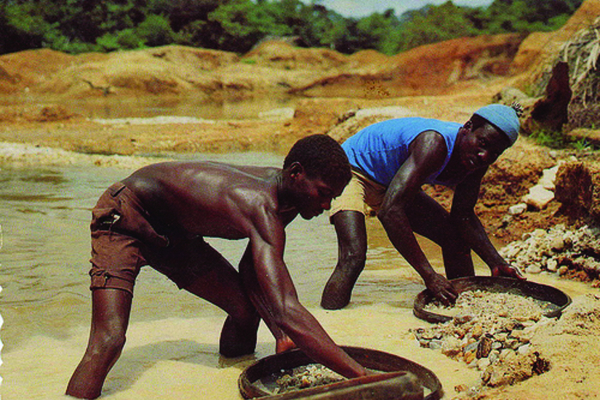 THE recent discovery of gold in Makaha area, Mudzi, resulted in a number of youths flocking to the mineral-rich area to try their luck in sudden but often elusive wealth.
BY JAIROS SAUNYAMA
Today the area is one of the busiest, with artisanal miners popularly known as Makorokoza employing every means to secure the precious mineral deposits.
There is massive use of mercury, a highly toxic element that is a threat to human life, as gold panners extract gold from ore.
Despite efforts by government to eliminate mercury use, the journey seems to be a futile one as the cheap and readily available chemical is still being used by many.
A number of gold panners and commercial miners around the country have no alternative means to extract gold beside mercury despite its detrimental effects to the environment and human life.
Environmental Management Agency (EMA) publicity officer for Mashonaland East province, Astus Mabwe said his organisation had embarked on a nationwide awareness campaign on the negative effects of mercury.
"We are currently raising awareness to all small-scale miners on the effects of using mercury. We have spoken to thousands of artisanal miners and the response is overwhelming, they are willing to engage other methods for the sake of life. We are on a nationwide campaign as we seek to implement the Minamata Declaration signed a few years ago," said Mabwe.
Zimbabwe in October 2013 joined other countries and signed the Minamata Convention on mercury .
The Minamata Convention is named after the Japanese city of Minamata, which experienced a severe, decades-long incidence of mercury poisoning after industrial waste water from a factory, was discharged into Minamata Bay. The local people who consumed seafood from Minamata Bay became very sick, while several others died or were disabled.
According to Section 73 of Zimbabwe's Constitution, citizens have a right to a clean, safe and a healthy management.
Hazardous substances environmental expert Irvine Nyaguwa said the fight to eliminate mercury use in the country cannot be debated without mentioning the complexity of the mining sector that has artisanal miners as top gold producers.
"Zimbabwe has a unique set up globally. We have makorokoza who many of them are into the informal mining sector. It is a peculiar situation, hence there is need to encourage them to employ good practices in the use of mercury. A number of livelihoods depend on mining," he said.
"Despite the widespread usage of mercury by artisanal miners, this sector plays a pivotal role in the country's economy. In 2016 alone, the sector produced 9,7 tonnes of gold which was 45% of the total annual gold yield."
He said it was important that sustainable and viable alternatives be adopted to reduce, limit or even eliminate mercury use without hampering gold production.
It is estimated that the informal mining sector is responsible for over 1 600 tonnes of mercury emissions to the air and on land per year.
Zimbabwe imports 50 tonnes of mercury while 150 tonnes are brought in illegally, and is all being used by small-scale gold miners.
"We are teaching the miners on how to recover 80% of the used mercury. There are other ways of extracting like the use of the Borax method, however, these are expensive for the artisanal miners," Nyaguwa said.
Some of the effects of mercury on humans include nervous system shattering, damage to internal organs such as kidneys, contamination of mothers' breast milk, children born with deformities and failure to control body movements.
"The long-term effects of mercury are detrimental and they mainly affect the nervous system. We need to stop the use of this chemical at all costs. Mercury pollution is a global phenomenon, the chemical moves with air and water, transcends political borders, hence can be transported thousands of kilometres in the atmosphere," EMA environmental expert Leon Mutumgamiri said.
According to the World Health Organisation, about 84 countries have ratified the treaty, which prohibits new mercury mines, requires countries to phase out existing mines and bans the manufacture, importation and exportation of mercury in many products.
"The key priority is that there is need to invest in free gravity technologies and modalities on the safe use of mercury must come into place. Eliminating the use of mercury is a calculative process which needs a balanced approach in order to keep the gold bullion afloat," Dosman Mangisi, Zimbabwe Miners' Federation spokesperson said.
With the country depending on artisanal miners for a meaningful gold output, the journey to eliminate the use of mercury is an uphill battle as the chemical is the only solution in the sector. However, according to the sector, there is need to implement good practices of mercury use.
Today, Japan is still experiencing the effects of the Minamata disaster that has since claimed thousands of lives.