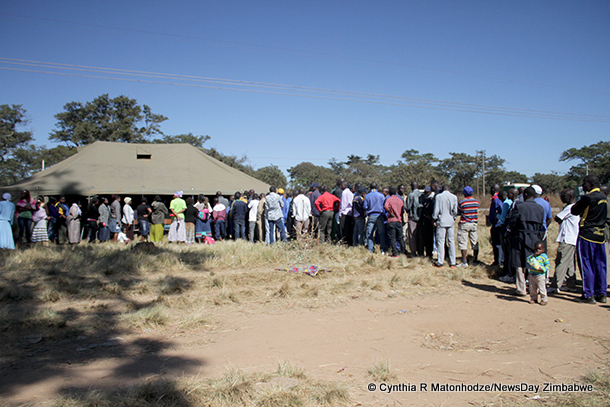 TOP Zanu PF and Lands ministry officials are reportedly promising to roll out irrigation projects and other agricultural inputs in several parts of the country, particularly drought-prone rural areas, in a move widely seen as a vote-buying gimmick ahead of the watershed July 30 polls.
BY Everson Mushava
Zanu PF this year is under immense pressure from MDC Alliance leader Nelson Chamisa, who controls the majority of urban cities and has made great inroads in the traditional rural Zanu PF strongholds ahead of the polls.
Last week, Lands ministry officials were traversing the country in the company of some Zanu PF candidates, promising to roll out irrigation schemes for the villagers on condition they voted for the ruling party.
The teams were allegedly moving around in the company of local engineering firms angling to win the tenders for the irrigation projects targeted to benefit newly-resettled farmers.
The tenders will close on July 26, a week before the country goes to the polls.
"At the meetings, government promised to set up irrigation schemes for the community, with each family expected to get a piece of land under irrigation," the source said.
"The villagers will pay each $50 for operations and maintenance, being 50% and government will pay the other half."
In Mashonaland East province, the team was reportedly led by Petros Chidza and other technocrats only identified as Rambanapasi, Mupedziswa, Mutikani and Wadzingenyama, all believed to be in the irrigation department at the ministry.
Lands minister Perrance Shiri was not reachable for comment, but Zanu PF spokesperson Simon Khaya Moyo said the ruling party did not condone such unorthodox campaign activities.
"We don't condone use of State resources for campaign purposes by any political party. Anyone with evidence that this is happening should report to the police immediately," he said.
Last week, the team allegedly visited Nyambiri, Glen Sommerset, Sussex, Nyamutsahuni, Frascati, Chigara and Honaruru between Monday and Friday on the same scheme and each meeting ended by a Zanu PF official addressing villagers, announcing dates they should meet the constituency's candidate.
Apart from irrigation projects offer, Zanu PF has also started distributing agriculture inputs to villagers ahead of the polls.
NewsDay visited Wedza last Thursday and observed party officials busy distributing fertilisers to villagers at Zaire, Gumbonzvanda and Mutiweshiri, among other places, while the same was happening in other provinces, especially Mashonaland West where traditional leaders have been tasked to distribute the inputs to their subjects on behalf of the ruling party.
"They have been dishing out the inputs. They are buying voters. We have been in Zanu PF and never at any time were these inputs distributed to villagers in July," said Sarah Mahoka, National Patriotic Front parliamentary candidate for Hurungwe East.