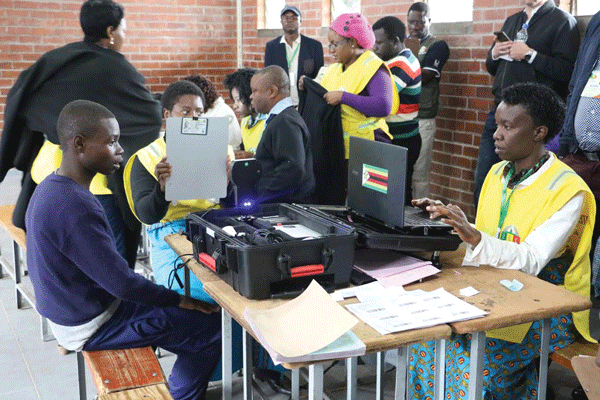 STAKEHOLDERS in the harmonised elections have accused the Zimbabwe Electoral Commission (Zec) of granting Zanu PF access to the Biometric Voters Roll (BVR) database where the ruling party accessed registered voters' contact details before sending them text messages soliciting for votes.
BY BLESSED MHLANGA
MDC Alliance principal, Tendai Biti, described the issue as a "the boob of the century" by Zec.
"This is the mother of all election frauds. It ends all pretence of Zec's neutrality and shows that Zec are working in connivance with Zanu PF to rig the will of the people. It shows that Zec has given access of the voters roll and its database to Zanu PF," he said.
"Cde Nyoni may I have your support to be President, Cde (Terrence) Mukupe 0779882507 for MP on 30 (July). Zanu PF values peace and development," read a message sent to voters registered in Harare East in Shona.
Those in Matabeleland got messages in IsiNdebele.
Zec, however, yesterday claimed its hands were clean and promised toprobe the matter.
Zec chairperson Justice Priscilla Chigumba denied releasing voters' phone numbers to political parties.
"Would you like your picture, your ID number, your address and telephone number to be floating around somewhere in the public arena? We have a duty to actually protect our registered voters from identity theft and all sort of other things that could happen," Chigumba said.
Zec Commissioner Netsai Mushonga said political parties could have done their own market research.
"As Zec, we distributed the voters roll and it had 11 columns and your phone numbers were not distributed to the political parties.
"So we are not the ones who distributed that information. You are also aware there are so many instances where you leave your phone numbers where you buy your goods (from) service providers," she said.
Another Zec commissioner, Qhubani Moyo, accused mobile phone operators of receiving money to share the data.
"You may want to know that service providers do have a facility in which anyone who is doing bulk marketing can pay them to have access to the database of their clients… That information is straight from the service providers and we would like the media to assist us talk to the public that we are not responsible for that," he said.
Chigumba who previously said the "USSD code" used to confirm registration was secure and was not given to service providers, however, said they shared that information with the three mobile network service providers in the country.
"What I will say in our defence is that, look, we will investigate because what we doing in this room is speculating.
We will investigate and find out the source of this data. What you are actually saying in your intervention is, strictly speaking, not correct.
"We did have a USSD code where you could actually check whether you were registered to vote during the inspection period, so it's actually not correct to say Zec is the only one which had access to the information," Chigumba said.
Econet has however distanced itself from the matter.
"Econet holds customer and client data in the strictest confidence, in line with the requirements of the law. It does not give or sell any customer data to third parties," read a statement by the service provider.