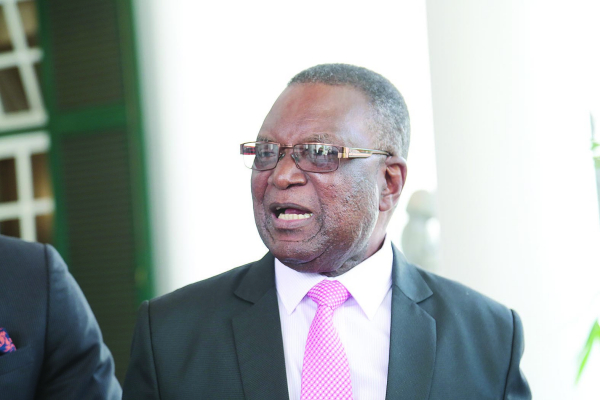 TRANSPORT and Infrastructural Development minister Joram Gumbo has disclosed that former President Robert Mugabe stalled the multi-million-dollar Beitbridge Border Post upgrade after the project was labelled a Lacoste faction initiative.
BY BLESSED MHLANGA/OWN CORRESPONDENT
He said the project was the brainchild of President Emmerson Mnangagwa, who then was labelled as leader of Zanu PF's Lacoste faction.
Mnangagwa eventually commissioned the project last week, seven months after he took over from Mugabe.
Gumbo told Southern Eye last Thursday that Mugabe stopped the $240 million project involving the Zimbabwe Border Consortium (Zimborders) and government, demanding the project be funded locally.
"I came into the ministry when the tender had already been awarded by the SPB, (then) my work was just to take it to Cabinet, that is when the then President said he was not keen to borrow to fund the upgrade. He (Mugabe) instructed Finance minister Patrick Chinamasa to fundraise for the project and have it undertaken by a local company," Gumbo said.
The already overborrowed government could not raise money for the project even after Mugabe elbowed Zimborders out of the deal.
"President Mnangagwa then did a follow up on the project and Chinamasa said he could not find money to fund the border project. That's when we revisited the deal, because we continue to lose revenue and risk traffic flowing elsewhere if we don't act as a government," said Gumbo.
He also confirmed that he had come under fire over the deal, with fellow Cabinet ministers accusing him of fronting Mnangagwa's interests.
"That was what happened, yet I had nothing to do with the deal. I was introduced to the ministry way after the tender had been awarded, but because it was me bringing it to Cabinet and linked to Mnangagwa, they said it was a Lacoste deal, so as a balancing act the then President stalled it," he said.
This came amid reports that Mugabe was angry after a company linked to his wife, Grace, lost the bid for the project. Meanwhile, Beitbridge residents have commended government for committing to revamp the border post.
"It will bring more bread on the table, with increased traffic translating directly to increased business," businessman and aspiring independent House of Assembly candidate for Beitbridge East Handsome Mbedzi said.
"We understand traffic will be separated to make it easy to handle, which is important. There is too much crowding at the border post which is a conducive climate for crime," he added.
The plan by Zimborders, winners of the tender to refurbish Zimbabwe and sub-Saharan Africa's busiest port, shows there will be 15 features for the arrival side to be divided into three sections for heavy vehicles, buses and smaller vehicles and pedestrians areas.
There will now be two scanners in the commercial vehicle (haulage trucks) section, truck parking and terminal area, warehouse, ablutions, truck search area and a truck kiosk.
Officers handling the separate sections will have offices in those various divisions in the new model with an airport concept to be built under the build, operate, transfer concept whose time line was not disclosed.
The departure side will have similar features and will also house the administrative offices of the border post.
Outside the border post, at the junction of the Harare and Bulawayo roads, Zimborders will build a Vehicle Inspection Depot facility expected to be the biggest in Zimbabwe.
"All these developments will bring a lot of movement to the town and such is good for employment and business," Mbedzi said.
Over and above the developments at the Customs and Excise area, Zimborders are building a new sewer plant and houses for staff at the new-look border post.
Beitbridge town clerk Loud Ramagkapola said the border post upgrade was the best news they had heard over many years.
"The modernisation of the border and support to our municipality infrastructure is a welcome development," he said.
"Sewer upgrade has always been top of our priorities, but resources have been a prohibitive issue. Our town is growing and unfortunately our infrastructure development has not had enough funding. Government support in sewer infrastructure is a welcome relief," Ramagkapola said.
He pleaded with Zesa authorities to complement government efforts by improving power delivery to the town.
"I think Zesa should keep abreast with the fast pace of development in the town. As it stands, all houses built since 2013 have no electricity and this is not good for our town and for development."