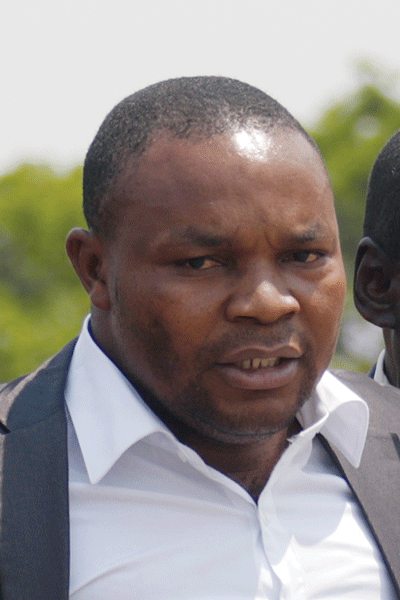 FORMER Zanu PF Harare South MP, Shadreck Mashayamombe was on Wednesday reportedly kidnapped by suspected Zanu PF supporters who demanded that he withdraws his candidature from the constituency before taking his Parliament-issued Chevrolet vehicle and dumping it along the Harare-Bulawayo Highway.
BY EVERSON MUSHAVA
Mashayamombe narrated his ordeal to NewsDay Weekender yesterday, claiming he was waylaid at Avondale Shopping Centre on Wednesday evening around 10pm by three armed men and one woman in a Honda Fit without registration plates.
"Three men came out of the Honda Fit, demanded my car keys and forced me out of the car. They blindfolded me and drove off with me in my car. They parked the car and told me they had an instruction to dump me in Kariba Dam if I don't want to withdraw my candidature against the President's nephew. They later removed the blindfold and I saw one man with a gun, the other one with a metal rod, while the other two were unarmed. I could not recognise any one of them," he said.
Mashayamombe was expelled from Zanu PF last November after the military operation that ended former President Robert Mugabe's 37-year rule. He will contest the July 30 election on an MDC Alliance ticket against Zanu PF's Tongai Mnangagwa and several other candidates from various political parties.
Mashayamombe has been on a collision course with Vice-President Constantino Chiwenga who told a rally recently the former Zanu PF member was as good as finished.
Mashayamombe said after hours of emotional torture, one of the men said he was against the idea of killing him, advising others to only take his money and set him free.
"After they realised that I did not have money, they took my other cellphone and groceries, gave me $5 for transport and drove off in my car. I called a taxi and went home and at around 3am, someone called me and told me to go and take my car along Bulawayo Road near N Richards shops. They told me they had left the keys inside. I could not go there during the night for fear of an attack and went to the scene at daybreak and indeed, I recovered my car."
Mashayamombe said he did not report the matter to the police because he had reported several cases since November last year when he was kidnapped by the military, after his home was raided and money stolen from his car business; and when his clothes were stolen, but no action was taken.
"Why should I waste my time when I have reported many cases, giving evidence, names of perpetrators and even vehicle registration numbers and nothing happened?" Mashayamombe asked.
"I am now living in fear, but I don't have anywhere to turn to for protection."
But police national spokesperson Senior Assistant Commissioner Charity Charamba said if Mashayamombe was not happy with the way he had been served by the police, there were always mechanisms for redress and these included reporting the matter to the officer-in-charge, officer commanding district or go straight to the complaints desk at the Charge Office.
"I cannot comment on the many cases he is referring to because I don't have the records," Charamba said. In an unrelated matter, Build Zimbabwe presidential candidate Noah Manyika has cried foul, claiming Zanu PF supporters were pulling down his posters in Gweru or sticking Mnangagwa's posters on top of his.
He said defacement of the posters was done ahead of the party's roadshow in Gweru yesterday. "We reported the matter to the police in Gweru and Chegutu. It is said that this is happening after all parties have signed a peace pledge."