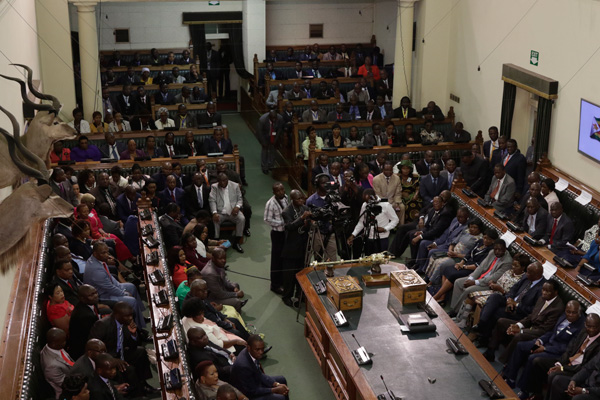 PARLIAMENT has recommended that the Local Government ministry should take over all town infrastructure owned by Hwange Colliery Company after the firm recently announced plans to sell its 5 000 residential properties to raise $300 million working capital.
BY VENERANDA LANGA
The recommendations were made by the Temba Mliswa-led Parliamentary Portfolio Committee on Mines and Energy in a report presented in Parliament on Thursday. "The Local Government ministry must take over the town infrastructure for the value and take over the responsibility for services such as roads, electricity, sewage treatment and others," the committee said.
"Other players in coal mining must also contribute to infrastructure maintenance until the Local Government ministry takes over the infrastructure."
Hwange Colliery is saddled with a legacy debt of $352 million, comprising $70 million in salary arrears.
The company also owes $110 million to the tax collector, $54 million in bank loans and $118 million to trade creditors.
Most of its problems evolve around the use of obsolete equipment and inadequate monthly working capital of $5 million. The committee said Hwange Colliery owns 25% shareholding in Hwange Coal Gasification Company that runs a coke oven battery, while 75% shareholders are Chinese, but are reluctant to support the takeover of the coke battery oven by Hwange Colliery.
Hwange Colliery was said to have lost its market share to Liberation Mine and Zambezi Gas principally through the loss of coal supplies to Zimbabwe Power Company. The committee also recommended that Hwange Colliery Company should approve the sale of its houses to current and former employees in order to reduce debts owed to employees.
"Requirements for foreign currency by Hwange Colliery must be prioritised at the same level as fuel and other national priority projects. Hwange must keep its own coal rich concessions and not just give them away as they are strategic assets to Hwange," the committee report said.
"All concessions must be reviewed and all unused or underperforming concessions must be recalled. The Hwange board which is heavily under-capacitated through lack of numbers and experience must be immediately reconstituted. Management is not experienced in the mining sector, and Hwange Colliery, therefore, requires an individual with vast mining experience to be appointed to manage it," Parliament said.