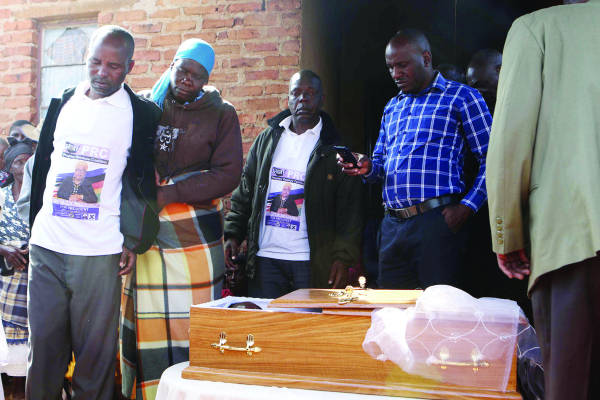 HUNDREDS of mourners yesterday paid their last respects to one of the youngest victims of political violence in the country, two-year-old Professor Lumbe from Glendale, Mashonaland Central province, who was brutally killed by suspected Zanu PF supporters at the weekend.
BY OBEY MANAYITI/EVERSON MUSHAVA
People's Rainbow Coalition (PRC) leader Joice Mujuru expressed concern over the incident, saying the toddler's death came at a time more cases of violence were being reported in various parts of the country, painting a gloomy picture over the credibility of next month's elections.
Professor's father Rambai Lumbe is the provincial secretary of Mujuru's National People's Party in Mashonaland Central and the party's parliamentary candidate for Mazowe North constituency.
Lumbe alleges his son was murdered by Zanu PF activists, who have been sending threatening messages against his family for his political stance.
Mujuru said Professor's death must be a lesson to all Zimbabweans that violence is destructive.
"This should be a lesson that our politics in Zimbabwe, if it is responsible for the death of this child, must be done in peace," she said.
"Let's learn that politics comes and goes, but our relationships stay forever. Your neighbour will always be there and we must learn to love and respect each other. We don't want this because this will be interpreted in different means. This must be a lesson to everyone that we must learn to live with each other in peace and with love for one another."
Mujuru equated the heinous death of Professor to that of 12-year-old Christpowers Maisiri, who was brutally murdered in Headlands by suspected Zanu PF activists in 2013.
"What pained me the most is that the victim is a toddler and it is not different from Christpowers Maisiri, who was burnt in a hut. I am hearing that he [the deceased] has a big wound in the head, meaning he was brutally attacked," she said.
"How does the person who did this to a toddler, less than three years, feel? Is it because of politics? This is just an innocent soul and these are the children we are saying are the future. People must be allowed to choose their desired parties and let's stop violence."
According to the post-mortem report, Professor succumbed to severe head injuries.
He went missing on Saturday and his lifeless body was only discovered the following day almost 2km away from his family's home.
Lumbe maintained his son was killed as a result of political differences.
"I can't say who in particular, but because I was always subjected to threats because of my party, people said a lot of things and they warned me that it will destroy my family. My child was murdered and I have no doubt that this is political violence," he said.
Meanwhile, in Goromonzi West, a married couple reportedly escaped death by a whisker after they were severely attacked for supporting the area's National Patriotic Front candidate, Biata Nyamupinga.
According to Catharine Shonhiwa, a group of five men driving a twin cab vehicle stormed their home posing as police officers and demanded to see her.
After her husband refused to let them see her, they became violent, pulled her out of the house, and assaulted her before spraying petrol intending to set their house on fire.
Fellow villagers came to their rescue after she screamed for help, forcing the suspected Zanu PF supporters to flee in the vehicle believed to belong to the Zanu PF candidate Energy Mutodi
"I attended a meeting at Munyariri in ward one, under Chief Chidyausiku. The meeting was to back Nyamupinga. I was the one who organised the meeting. At around 1am, we heard a knock and my husband, Tichaona, attended to it," Catharine said.
"Four men were outside, claiming to be police officers. They demanded to see me. My husband demanded their identification, which they failed to produce.
"They pulled my husband out and started assaulting him. They entered the house and assaulted me too. They sprayed petrol around our hut and pulled some thatch grass and set it on fire. Fortunately, my daughter, who is in Form 2, rushed to put out the fire before they set the hut ablaze. I managed to get out of the fence and screamed for help.
"Fellow villagers came when they [assailants] were busy spraying petrol everywhere, including inside the house intending to set it ablaze. After realising villagers had come, they rushed and fled in their car. We managed to identity two of them and we know them as Mutodi's aides."
The matter was reported at Chinamhora Police Station under RRB 3520962. Tichaona was rushed to Makumbe Hospital and got five stitches on his head.
Nyamupinga said she alerted the police, who later attended the crime scene.
"I called the police and about nine of them attended the scene of crime. The car was identified and it belongs to (Zanu PF candidate Energy) Mutodi," Nyamupinga claimed.
Mutodi yesterday admitted there were some violent scenes, but distanced himself from it, accusing the MDC-T for the violence. "The NPF has been interfering in MDC-T affairs, supporting a person who lost to the official candidate, Luke Tamborinyoka, and the MDC-T is not happy about that. They are the ones who beat the lady and her husband," he alleged.
Asked about the alleged use of his vehicle at the crime scene, Mutodi said: "The said vehicle is broken down and I have not seen the driver for the past three weeks. How can a broken down vehicle be on the scene?"
But Tamborinyoka accused Mutodi of unleashing a terror campaign in Goromonzi West constituency.
"This is a Zanu PF intra-party thing. How can the MDC-T be involved? It is Mutodi who is importing violence from his Bikita home to terrorise our mothers in Goromonzi West."
Police spokesperson Chief Superintendent Paul Nyathi said investigations were in progress.
"We have received a report from two complainants who claim they were assaulted in Chinamhora area. Suspects are yet to be identified and police are continuing with their investigation," Nyathi said.