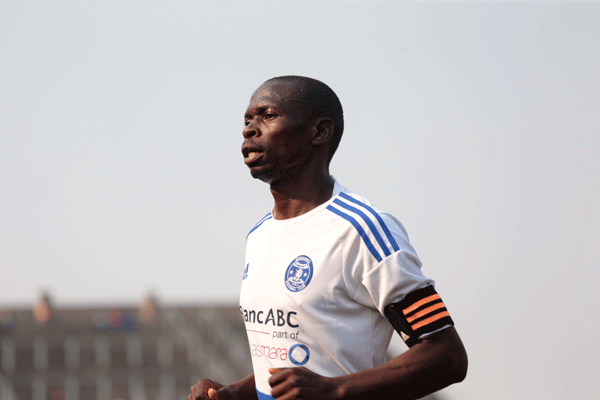 Cash-strapped Castle Lager Premier Soccer League giants Dynamos are struggling to pay off their captain Ocean Mushure his signing-on fees totalling $24 900, something that has potential to scuttle their revival plans after a difficult first half of the season.
BY TAWANDA TAFIRENYIKA
The Glamour Boys are also battling to pay their players $2 400 each as winning bonuses from last year, as the team struggles for revenue in a season where supporters have generally stayed away from their matches due to on-field and board struggles.
However, it is Mushure who appears to be the biggest victim, with the club reported to be owing him $5 500 in signing-on fees from 2016, $8 500 (2017) and another $8 500 for this season.
Dynamos secretary Webster Marechera was not reachable for comment yesterday. However, sources said Mushure was struggling to cope with his dire financial situation.
"He has not been paid a substantial amount of money. It's one of the reasons he is experiencing problems at home and naturally it has had an effect on his performance. He is not in the right frame of mind and he needs the support of the team financially. He is the team captain who has always given his all," a source who asked for anonymity, said.
The Glamour Boys fullback, was one of the outstanding performers last term and some even believe he was robbed of the Castle Lager Soccer Star of the Year award when he was voted the first runner-up to eventual winner, Rodwell Chinyengetere of FC Platinum.
However, he has been a pale shadow of his old self this term and has often missed matches while attending to domestic issues.
Yesterday, he did not take part in training as the team regrouped for the second half of the campaign, but he is expected to report for duty today.
Dynamos also lost their last season's top goal scorer Cameroonian international Christian Ntouba Epoupa, who returned to his native home two months ago after the club failed to pay him his dues.
The Cameroonian star scored for the Glamour Boys last term after netting 12 goals which helped them to a second-place finish.
Midfielder Raphael Manuvire is unsettled at the Harare football giants and wants out of the team. He has reportedly handed in a transfer request, which the club executive is understood to be considering ahead of the next transfer window.
The transfer window opens on July 1 and most teams are jostling to beef up and release some of their players for the second half of the season which resumes on July 7.
Dynamos have had a slow start to the campaign and were in danger of relegation before an improved performance in their last few matches saw them rise steadily to position nine with 20 points from 17 matches.
They trail log leaders FC Platinum by 24 points, a gap which has dented their chances of winning the championship after agonisingly coming close last term when they were beaten to the trophy by FC Platinum.
Despite their championship hopes having wilted, they can still fancy a top four finish.