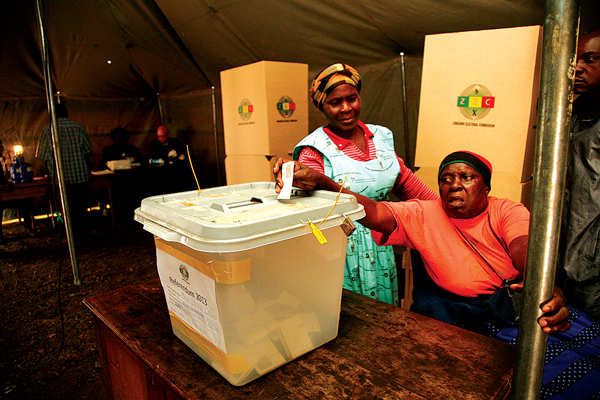 THE second round of the Zanu PF primary elections is heading for another drama after losing aspiring candidates and party supporters dismissed it as a "farce", raising many irregularities and launching a tirade against the party elections commission.
BY OBEY MANAYITI/NUNURAI JENA
Zanu PF ordered a rerun for a few disputed constituencies, although a number of complaints were raised on the majority of the seats.
Following a recent politburo decision for reruns, many candidates and supporters said they expected a smooth and improved exhibition of internal democracy, but the primaries failed to meet the test.
Party national commissar Engelbert Rugeje said he would formally announce the results.
This came at a time when scores of party supporters thronged the party headquarters demonstrating against the victory of Labour minister Petronella Kagonye and Tendai Savanhu, alleging manipulation of the party's registers and resulting in some of the activists failing to vote.
Zanu PF aspiring candidate and war veterans' spokesperson Douglas Mahiya accused the elections commission of trying to tarnish the image of President Emmerson Mnangagwa, whose nephew Tongai was reportedly declared the winner.
He said they were meeting the commission to query why Tongai was being considered in Harare South.
Mahiya equated Tongai's involvement as tantamount to creating a dynasty.
"This is not about creating a dynasty here, we are not looking at that. We are not attending to an issue of dynasty here, no, we are not taking that. He is using the name Mnangagwa and he (Tongai) told me that I was his subject," Mahiya said.
"I went to war and fought again to have this new dispensation. He told me I am not a beneficiary, but him, and I can't take that. All candidates are coming here and they are saying let's contest among ourselves, but Tongai must go.
"We have written a petition which is in the hands of the commission as we speak right now, but they are failing to act and otherwise, this commission wants to betray ED so that they will take a wrong decision, which will be blamed on ED. They will not tell me this nonsense. Never! They can't."
Harare provincial chairman Godwills Masimirembwa, however, said elections in the province went on well, although there were isolated skirmishes.
"They (elections) are still ongoing, but generally, we are happy with the process. I can say in all the areas because we haven't received results as yet, but we are hopeful that everything will be finished today. There were skirmishes here and there, just pushing and shoving and there is nothing serious," he said.
More drama unfolded in Mazowe West constituency, where there were reports of voter apathy, as party supporters contested the sole rerun for women's quota.
They said it was improper to only consider irregularities for the women's quota, which, however, affected all the candidates from local government, senatorial and House of Assembly.
In Mazowe West, provincial chairman Kazembe Kazembe was facing stiff competition from other contenders, including Tafadzwa Musarara.
NewsDay was inundated with calls from party supporters who said there was unfairness in the process.
"How can they acknowledge an irregularity in one area when they used the same system on everything? We don't know why we are being denied the opportunity to choose our preferred candidates. We didn't vote, many people didn't because we have lost confidence in the process. We need a complete rerun and that message must be taken seriously," a Zanu PF supporter, who requested anonymity, said.
In Chipinge South constituency, the previous winner, Enock Porusingazi, romped to victory again while in Chipinge Central, the sitting legislator, Raymore Machingura, thumped the provincial vice-chair Dorothy Mabika.
Oliver Mandipaka reportedly lost for the second time to Soul Nzuma, while Joseph Made reportedly lost to Shadreck Chipanga for the senatorial seat.
Zifa president Philip Chiyangwa won the Zanu PF Zvimba South slot, while former Joice Mujuru's National Peoples' Party women's leader Marian Chombo secured her place in Zvimba North.
In Chegutu West, Dexter Nduna won again.
Chiyangwa's rival, Crispen Kadhoza Saidi, disputed the results, citing massive electoral fraud.
Saidi accused Chiyangwa of bribing Zanu PF wards and chairpersons to force people to vote for him and to turn away his known supporters.
"The rerun irregularities were more than when the elections were initially held because Chiyangwa used money to influence the results by giving money to some ward and youth chairpersons in the constituency. I'm appealing for another rerun," Saidi said.
Chiyangwa refused to comment, but warned candidates to avoid being malicious.