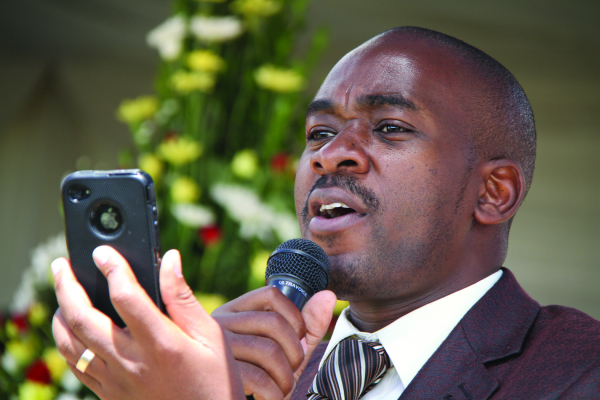 OPPOSITION MDC Alliance presidential candidate Nelson Chamisa has organised what he termed "break Zanu PF's back" campaign rallies in his predecessor and MDC-T founder Morgan Tsvangirai's home province, Manicaland, this weekend.
BY RICHARD CHIDZA
MDC-T organising secretary Amos Chibaya confirmed that Chamisa who arrived from the UK yesterday will address a series of rallies in the province.
"This weekend we are back in Manicaland for our Gogoi pamusiwo rallies. We are holding three rallies in Buhera, Makoni and Marange. We would want to break this myth that rural areas are Zanu PF strongholds," Chibaya said.
He said the campaign also aims to drum up support for Chamisa's transformation agenda.
"It is a deliberate programme to make sure the rural populace understand president Chamisa's programme when he takes over after the elections," Chibaya said.
The MDC-T has since its formation in 1999 struggled to break Zanu PF's stranglehold on the country's rural areas and in the process consistently lost elections. But Chamisa has vowed to break the jinx as he plots to shock Zanu PF presidential candidate Emmerson Mnangagwa in general elections expected in July this year.
The opposition leader has already been to two provinces, regarded as Zanu PF strongholds – namely Mashonaland East and Central provinces.
Since taking charge following Tsvangirai's death in February this year, Chamisa has concentrated his campaign in rural areas in a bid to increase his chances of winning this year's polls.
While Mnangagwa has not yet proclaimed the election date, he, however, indicated early this week that the polls could be held in July.
Zanu PF has already held a hugely controversial internal selection process amid accusations of vote rigging and ballot stuffing while the MDC-T's primary elections will be held beginning next weekend.
Mnangagwa has promised a free, fair and credible poll but the opposition remains sceptical, citing government and Zanu PF's alleged interference in the running of the Zimbabwe Electoral Commission (Zec). The ruling party has also been accused of deploying soldiers and traditional leaders to drum up support for Mnangagwa in the rural areas.