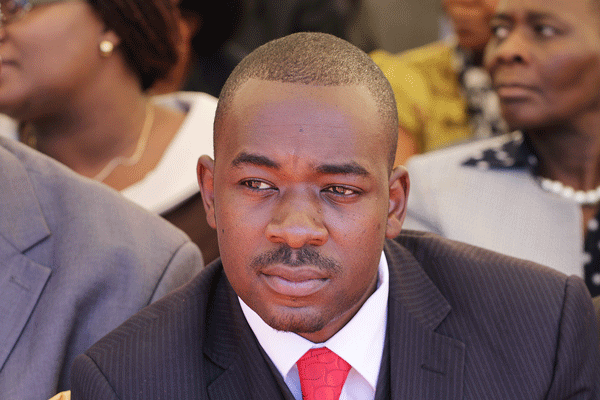 MDC Alliance presidential candidate, Nelson Chamisa (pictured) has told his supporters that the country's securocrats could find themselves with no choice, but to salute him if he wins this year's presidential race.
BY RICHARD CHIDZA
Addressing a campaign rally in Buhera on Saturday, Chamisa said he was confident of running over Zanu PF presidential candidate, Emmerson Mnangagwa in elections expected in the next few months.
"The army is the people's military. They salute the people and the leader chosen by the people. We are going to elections and the military will salute the leader who would have been chose. They will not be saluting the people, but the Constitution," Chamisa said to applause.
His remarks came amid fears that the military, which has been widely viewed as the vital cog in Zanu PF's election machinery, might refuse to recognise his victory.
Chamisa and his acolytes have demanded that the military make public pronouncements to the effect that it will respect the rule of law and accept the election results whichever way they go.
"We are happy that our military knows the law. They will salute not the leader, but the Constitution. We do not want hungry soldiers and we will correct that including all working conditions for government workers across the board. We will priorities the welfare of all government workers, nurses, teachers and soldiers," he said.
"I have talked to Mnangagwa and Chiwenga and told them we need to contest at the level of ideas," Chamisa said.
On the eve of the 2002 presidential election that pitted former President Robert Mugabe and the late MDC-T leader Morgan Tsvangirai, the country's military generals declared that they would not "salute anyone without liberation war credentials".
Critics argued this was a euphemism for Tsvangirai then seen as shoo-in to defeat Mugabe.
The election was, according to the opposition, later "rigged" in Mugabe's favour amid widespread intimidation by the military. Since then senior securocrats have consistently issued statements that border on threats to usurp the people's will before every successive general election.
There are growing fears that Mnangagwa's deputy and former Zimbabwe Defence Forces Commander Constantino Chiwenga might incite the millitary to stage another coup against an opposition winner following his ouster of Mugabe last November.