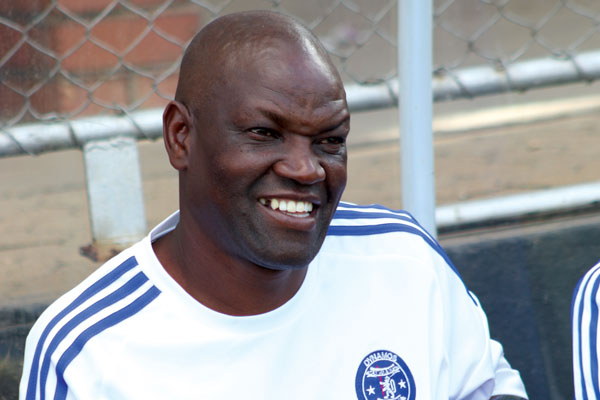 DYNAMOS coach Lloyd Mutasa believes the conclusion, though acerbic, to the Christian Ntouba saga should allow the team to regain full focus, vowing that the Harare giants will collect their first full set of points this season against Yadah FC this weekend as they look to turn around their warning fortunes.
BY HENRY MHARA
The Cameroonian did not train with the squad this week as it becomes apparent that he has finally quit, ending what has been a hostile relationship with the club over unpaid dues and "bad working conditions".
Mutasa reckons the Ntouba sideshow which saw the player returning money he has been getting from the club and submitting a letter of request to terminate his contract last week, will allow the team to concentrate.
The striker has been training with the club since the start of the season, but refusing to play in protest over $16 000 in unpaid signing on fees and other related game bonuses.
"We had a scenario where we would think today or tomorrow we will have Ntouba in the team, and you compare it with the current situation that he is done and dusted. Now that the young man has decided to call it a day, we are bracing ourselves for life without him and now that we know we don't have such a person, we have to look elsewhere. We have the likes of Kuda Kumwala and the likes of Quality (Kangadze), they have to fit in the shoes and do duty for us," Mutasa said.
While acknowledging that life has to move on without the club's last season's top goal scorer, Mutasa knows without Ntouba's goals, it would be difficult.
"If you look at the number of matches that we have played and lost, it was by a single goal margin and in those matches we created two or so good chances and had we utilised those chances, we could have probably won or drawn some of the matches. That is an area that we have been working on and I am sure we are going to score goals this week and manage to come out victorious."
DeMbare host Yadah FC at Rufaro Stadium on Sunday, looking to collect maximum points following a dreadful start, where they have collected just two points from a possible 12.
Interestingly, they had almost a similar start last season and got their first win over their weekend opponents at almost the same stage of the season.
"It's pointing to that scenario again. We are slow starters, but we had said we don't want to start badly this season, but that's where we are. We want to bounce back and we have the arsenal to do that. It's only a matter of time, and God's time is the best, and I'm sure we are close to it. With the way we are executing our duties, many things are looking positive. The youngsters are itching to go and everyone wants to do well. It's high time to start collecting maximum points so that we catch up with others.
Mutasa's men are already 13 points behind log leaders Ngezi Platinum, but he is unfazed
"We are not moved by what has happened. You look how Real Madrid started the season, they were far from it, but now they are chasing the Champions League and they are the team to beat. We have 29 matches to play. We are Dynamos and we have said we want the league title and nothing else," Mutasa declared.
Good news in the Dynamos camp is the return to training of most of their stars who had been down since the start of the campaign.
Peace Makaha, Emmanuel Mandiranga, and Gift Saunyama have started training with the squad, although the next game might have come too early for them. Only Marvellous Mukumba is still down.