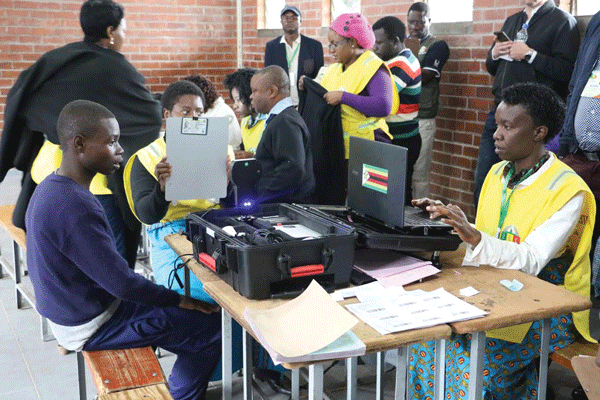 RURAL Communities Empowerment Trust (Rucet) has said long distances to Zimbabwe Electoral Commission (Zec) provincial registration offices are hindering thousands of would-be voters from registering ahead of polls.
BY SILAS NKALA
Rucet programmes and information officer, Nkosini Khupe said most people from rural communities in Matabeleland North province still wanted to register, but the distance they had to travel to the Zec centre in Lupane is deterrent.
He also urged other organisations to assist villagers with transport.
"We transported about 140 people to the registration centre to register to vote on Tuesday and these were from Lupane's ward 9," Khupe said.
He said their survey revealed that a large number of villagers were yet to register.
"Although the registration blitz ended, these numbers indicate that there is a will to register among community members in Lupane and Nkayi despite challenges faced," Khupe said.
"As Rucet, we started by mobilising and educating women and youth on voter registration processes, but as the project progressed, it aroused interest from the general populace. If resources permit, we might see more people register to vote."
Lupane co-ordinator, Vumani Ndlovu said: "I feel they (Zec) did a splendid job cause they opened till late on Tuesday, I think around 8:30pm and registered around 150 people.
"The large turnout from just two villages of the ward is an indication that there are a lot of people, who have not registered in the villages. The BVR blitz was not well advertised, a lot of people had no information. There are also a number of youth that turned 18 after the blitz, who are now eligible to register, but can't afford the transport costs to the registration centres."
Ndlovu said some people did not have identity documents and the fee charged by the registry department for lost IDs was exorbitant.
"Our suggestion is that Zec should have continued with the decentralisation of the registration in the wards. The registry department should also do the same to enable people to obtain IDs," he said.
Matabeleland South organisation, Godlwayo Community Development Trust co-ordinator, Nkululeko Tshuma said villagers in Filabusi, and Insiza district were facing similar challenges.
"The issue of long distances and birth certificates has affected villagers in their will to go and register to vote. The registration process going on after mobile BVR left Diasporans, who arrived afterwards out. We have been trying to assist villagers with transport, so that they access the registration centres."
#ThisConstitution leader, Abigail Mupambi said people, who failed to register during the BVR blitz did not know that registration was still on.
"As we continue to spread the message that registration is still on, the sad reality is that the distances to the district registration centres are too far that people here cannot afford walking or fares to go and register there. We are appealing for more stakeholders to intervene and assist in this regard," she said. "We cannot afford to leave any voice behind on national issues like these."