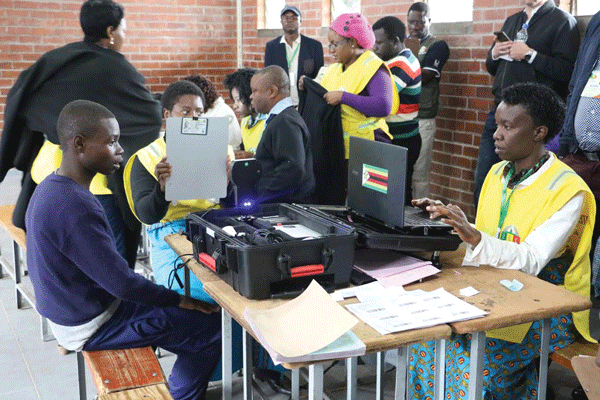 THE Zimbabwe Electoral Commission (Zec), in partnership with the Christian Alliance, has set up biometric voter registration (BVR) centres at churches, as it targets the clergy and Christians before the mop up exercise closes on February 8.
By NQOBANI NDLOVU
Christian Alliance (CA) director, Reverend Husain Sibanda said the partnership began last Sunday at the Apostolic Faith Mission Church in Bulawayo.
"We launched this exercise on Sunday at Apostolic Faith Mission Church in Bulawayo. On that day by 2pm we had registered more than 600 people, which was quite a good turnout," he said.
Sibanda said CA, which represents various church denominations has also been conducting door-to-door BVR awareness campaigns in partnership with Zec.
"I think what has been also amazing is the use of young people to mobilise other young people. We noticed that many youths had not registered, so we thought voter education from one youth to another will be more effective," he said.
Sibanda said their teams are currently working in Hwange, Tsholotsho, Kezi, Beitbridge and Binga, targeting various churches in the last phase of the BVR mop exercise.
Zec has extended the BVR exercise, which began in October, and has seen over 4,8 million people registering to vote out of a targeted 7 million for the harmonised elections scheduled for mid-year.
President Emmerson Mnangagwa has said elections will be held before July.
A number of civic society organisations have also embarked on BVR roadshows, targeting mainly the youth to encourage them to register to vote.