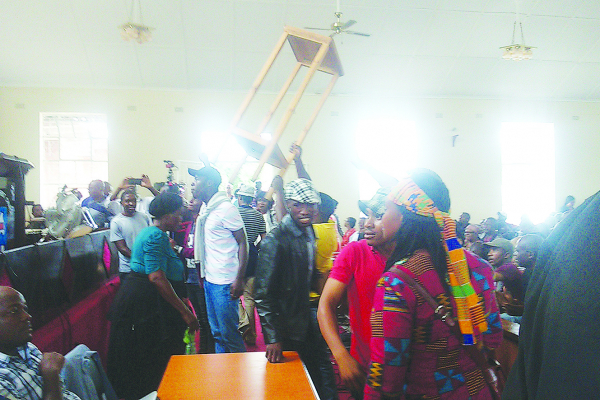 THERE was drama at the Bretheren In Christ Church in Bulawayo yesterday when the Mthwakazi Republic Party (MPR) members disrupted a National Peace and Reconciliation Commission (NPRC) committee meeting disputing the composition of the team leading the process.
BY ALEXIS SIBANDA
The activists, who complained that there was only one Ndebele member in the committee, started singing and scoffing at the committee, forcing them to leave the venue before the meeting started.
In an interview soon after the team left, Mthwakazi activists said they would not allow non-Ndebele speakers to address them about Gukurahundi.
"Their committee has seven, people, and out of those seven there is only one Ndebele and for that we say this government is not serious because it is the same government that killed our people and their Gukurahundi is still an ongoing thing, as seen by what they are doing bringing people from Harare to talk to us about this issue. Government has no respect for us at all," MRP president, Mqondisi Moyo said.
"We want to deal with this Gukurahundi issue on our own. We do not want anything from the government because [President Emmerson] Mnangagwa refused to acknowledge his mistakes and hid the element of truth that has to be incorporated about Gukurahundi when he was at Davos (Switzerland). This shows that he is not sincere about redressing this topic."
Moyo said the NPRC Act was a naked document that had been prescribed by the government.
He said the Chihambakwe, Sandura and Dumbutshena commissions, just like NPRC, were window dressing, as they failed to address the Gukurahundi issue.
A Gukurahundi victim, who declined to be named, said the NPRC was not well-constituted and is in violation of the Constitution.
"Here, we only see one Ndebele and that Ndebele was only a cover up, they do it in order for the international community to accept them. The issue is that they want to bury the Gukurahundi issue because when this NPRC was started, it was after the voices of Gukurahundi victims and, thus, when the President came up with the commission because of pressure (sic)," he said.
"We need healing and we need peace, but in this way we need an independent international committee because the current commission is an interested party. We want a committee that includes people of all ethnic groups," he said.
Women of Zimbabwe Arise (Woza) director, Jenny Williams, said: "As Woza, we are disappointed by the manner in which the commission was set up, it does not represent the diversity of the country and they need change and 50% women. Gukurahundi might have taken place long ago, but the wounds are still existing."