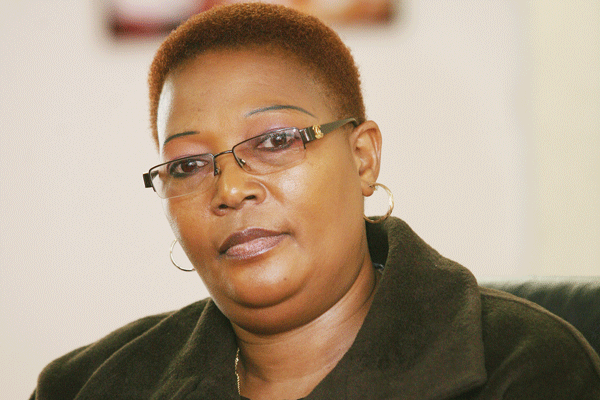 EMBATTLED MDC-T deputy president, Thokozani Khupe, party secretary-general, Douglas Mwonzora and national organising secretary, Abednico Bhebhe reportedly survived an attempt on their lives yesterday after a mob of activists attacked them on arrival at former Prime Minister Morgan Tsvangirai's funeral in Buhera yesterday.
BY RICHARD CHIDZA
Khupe and Mwonzora are locked in a vicious power struggle with acting MDC-T leader Nelson Chamisa, who wrested the opposition movement hours after Tsvangirai died of colon cancer in South Africa last week.
Bhebhe seemed to have gotten over the ordeal, but Khupe sobbed as she sat at the top table, while Mwonzora stood motionless, even when Chamisa made reference to him in his speech.
A villager, Maxwell Hapanyengwi, in whose house the trio sought refuge, expressed shock after the incident.
"It was a shocking experience. I could not believe it. It was a mob of over 150 people chanting death threats against the three," he said.
"They threatened to burn down the hut, but the police and other activists worked hard to protect them."
Mwonzora confirmed the incident.
"It was the three of us. Initially, 10 activists attacked us, but they were warded off by our security," he said.
"However, they went and regrouped and came with over 100 others. They were chanting slurs like 'Khupe go back to Matabeleland. We will not be led by a woman'. It was wrong."
Mwonzora also confirmed the mob had tried to set the hut on fire.
Asked why he thought they were being targeted, Mwonzora pointed straight to the leadership scrap in the party.
"It's clear, they were chanting Chamisa, Chamisa, Chamisa. They were accusing me and Khupe of pushing for the extraordinary congress. They demanded that we respect the leadership chosen by the national council," the former Nyanga North lawmaker said.
Efforts to get a comment from Khupe and Chamisa were fruitless.
Mwonzora said Khupe was shaken, but remained strong.
"She was shaken, but remains strong. As for me, I will not be intimidated by people who are scared of constitutionalism," he said.
"I confronted Chamisa about the issue and he denied being responsible. He feigned surprise.
"We were saved by the police and our youth as well as the negotiation skills by Isaac Maphosa, of the Zimbabwe Institute, and Father Francis, from the Counselling Services Unit. We were surprised that those in the leadership did not find time to help.
"Chamisa, however, tried to address the issue, but generalised things rather than being specific to the shocking incident that had just happened."
Khupe and Mwonzora did not attend the actual burial.
Mwonzora claimed they had been warned of a plot to puncture Khupe's car and attack her.