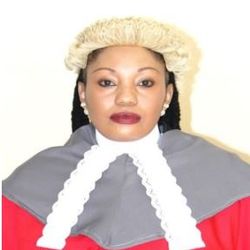 Justice Priscilla Chigumba will reportedly be sworn in as the head of the Zimbabwe Electoral Commission (Zec) today, a good development for the elections management body, but a worrying sign in the fight against corruption.
While Chigumba has not been found guilty or charged with any impropriety, there have been allegations made against her, which Chief Justice Luke Malaba at one point described as "a matter of great concern".
Chigumba was accused of approaching one of the parties in a case she was presiding over — through a third party —and demanding a bribe of $20 000.
The allegations were raised by the late former Chief Justice Godfrey Chidyausiku when Chigumba attended interviews for elevation to the Supreme Court.
Chidyausiku took the allegations seriously to a point where he wanted to consult former President Robert Mugabe on the setting-up of a commission to investigate Chigumba's conduct.
In her defence, Chigumba accused the person, who had raised the allegations, of being unstable and telling lies, but Chidyausiku said the claims had a ring of truth warranting an investigation.
Chidyausiku said a "judge had to be beyond reproach" and this is what we expect from the head of Zec.
There is a heightened interest in this year's elections and the direction the country takes after polls is determinant on whether they are free, fair and credible.
Zimbabwe has for long been considered a pariah State and the only way the country can shed this tag is if it able to hold polls that meet certain thresholds and there is need for the person running elections to be beyond reproach.
As we have pointed out, Chigumba has not been found guilty and neither has she been tried, but the very fact that there are such allegations hanging above her head should have been enough to exercise caution before appointing her to such a lofty position.
There was no harm in first setting up an inquiry, clearing her name and then appointing her to the Zec position.
Her appointment calls into question President Emmerson Mnangagwa's anti-corruption drive, as there are enough red flags to stop Chigumba's appointment.
Zec needs a person of integrity, who has not been tainted or implicated in corruption scandals, so that whoever loses elections cannot turn back and accuse the electoral management body's head of chicanery.
Chigumba assumes a very important role at a critical point in our country's history and how she manages it could shape the nation's destiny, and this will intensify scrutiny into her past conduct.