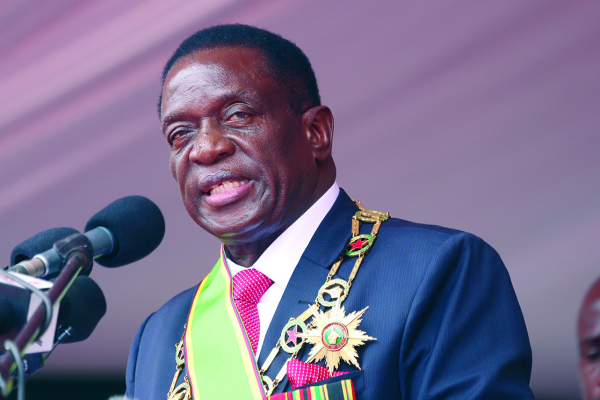 President Emmerson Mnangagwa's call to stop blaming sanctions for the country's economic malaise is timely, and we urge the government to craft policies that can kick-start the economy without being bogged down with the infantile sanctions mantra that characterised former President Robert Mugabe's regime.
It is without doubt that there are no heroes out of sanctions mantra excuses, just as there is no progress in excuses of whatever form. In December 2015, we challenged the Mugabe regime that even more fatal was that when one uses the crutch of excuses, it is a unique type of crutch because while it may appear to aid, in the end it does more harm. It aggravates the depth of one's lameness. It lulls one and preserves them into the hall of mediocrity.
Clearly, Zimbabweans are suffering. Millions are unemployed and hunger is stalking them. Families are destroyed, as they can't afford decent meals and millions have left the country. Businesses simply can't hold up. The Zimbabwean crisis is real and action is required urgently to revive the economy. It would be folly, therefore, for Mnangagwa to continue using sanctions as an excuse as this will still come unstuck.
Zimbabweans are demanding action, not sanctions intonations the politicians continue to use to absolve themselves from the rot created by previous successive Zanu PF regimes.
No doubt excuses have never turned anyone into a hero. The country requires a way out of the economic quagmire it finds itself in. It is not normal for Zimbabwe to have thousands of graduates sitting at home or on the streets as airtime vendors.
Mnangagwa must dismantle the sanctions mantra from Zanu PF structures which are fond of justifying the government's failure to deliver. There is no justification at all for government's failure to ensure infrastructure development or ensure the provision of basic human rights to its citizenry.
It is clear to all and sundry to see that it was at the height of the sanctions mantra that corruption, social decay and poor governance became part of the government machinery, while Mugabe and his wife Grace enjoyed being deified.
We can think of corporate malfeasance, the collapse of the health sector and the rot at State enterprises, endemic corruption within the police force and other arms of the security sector. The bad image the police created by extorting tourists was responsible for the sharp drop in tourist arrivals, yet Mugabe and his acolytes blamed sanctions, what sanctions?
The citizenry is eager to come out of this economic, social and political rut they are stuck in, and hence demand pragmatism to move the country forward. We urge Zimbabweans to never again give the country's leadership reasons to justify mediocrity through apportioning blame to others. They must take responsibility.
It is critical that whether sanctions are perceived or real, Zimbabweans should focus and make efforts towards building a better country, where everyone is accorded their dignity and basic rights are guaranteed.
The country's leadership, traditional chiefs and the populace must be determined to move forward, work hard and leave a better Zimbabwe for future generations. Zimbabweans must stand up for what is right.