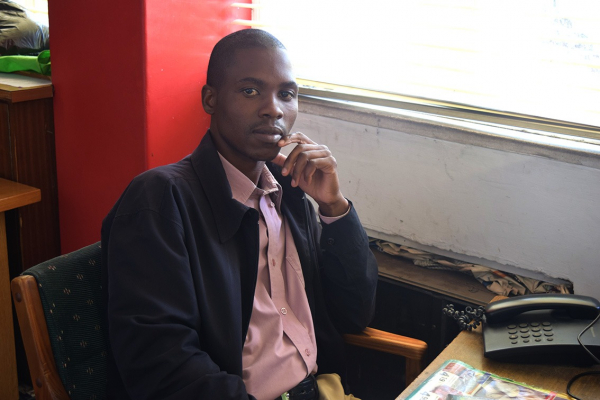 THE Zimbabwe National Chamber of Commerce (ZNCC) says this year it will run under the theme: Enterprise Development, Corporate Entrepreneurship and Sustainable Growth, as it looks into strengthening entrepreneurial management skills through capacity building and training to foster adoption of good workplace practices in small and large enterprises.
By Mthandazo Nyoni
NewsDay (ND) business reporter Mthandazo Nyoni interviewed ZNCC president, Divine Ndhlukula (DN) about the industry body's objectives in 2018. Below are excerpts from the interview.
ND: What areas are you going to focus on as the Zimbabwe National Chamber of Commerce in 2018?
DN: Our theme for 2018 is "Enterprise Development, Corporate Entrepreneurship and Sustainable Growth," as we are looking into strengthening entrepreneurial management skills through capacity building and training to foster adoption of good workplace practices in small and large enterprises.
In essence, we are saying enterprises should innovate, be able to adopt appropriate environmentally-friendly technologies, develop skills and human resources, and enhance productivity to remain competitive in the new economic order.
Forex shortages remain a challenge and government should bring confidence in the domestic and international markets to ensure movement of money.
There is need to address the foreign currency shortages, as this is weighing down business operations.
Industry is failing to import raw materials, because of foreign currency and this has an impact on production levels.
Delays in the processing of foreign payments are being experienced, as business has to wait for months to be able to import and this promotes arbitrage opportunities for speculators.
Areas in which industries have closed shop but infrastructure is still there must be declared special economic zones, since infrastructure is there rather than starting with areas without the much-needed infrastructure.
There is need to attract investment in these areas.
ND: What were your main achievements as industry body leader in 2017?
DN: ZNCC led a business delegation to India to foster private sector relations, facilitate joint ventures between the two countries and for the inauguration of the Zimbabwe Business Development and Investment Office in Ahmedabad, Gujarat India. The chamber also signed two MOU's with Gujarat Chamber of Commerce International and Indo-Africa Chamber of Commerce, as well as the Gujarati Chamber of Commerce.
As the "Voice of Business", the chamber held a number of business forums and workshops, where a number of economic problems were addressed, as well as coming up with different economic policy reforms.
Engagements with the government have continued to provide a harmonious and productive working relationship between policy makers and industry.
Through our diversified membership, we managed to gather information for the 2018 Budget input and submitted to the ministry of Finance and some of the issues that we raised were addressed in the 2018 budget.
In the fourth quarter of 2017 during the ZNCC 2017 Business Review Conference, the chamber launched a survey on the "Understanding the dynamics and characteristics of the informal sector in Zimbabwe", which drew the attention of policy-makers to act on the findings and implement measures to address gaps identified by the survey.
Through the Women's Desk, we launched the Women Owned Brand initiative, aimed at connecting women-owned businesses to sustainable markets.
ND: What major challenges did the industry face in 2017?
DN: Cash shortages, which have seen the membership of the chamber continue to lose loads of productive man-hours, as employees spend disproportionate amounts of time queuing at the banks.
Foreign currency shortages have seen quite a number of manufacturing companies losing business, as they struggled to import raw materials for their necessary inputs.
The overnight price fluctuation in the market makes inputs become expensive and also give room for smugglers to flood the markets.
ND: Do you think the government is doing enough to improve the industry? If not, what do you think should be done?
DN: Government has played a part in improving industry especially under the rapid results initiative to address the ease of doing business.
However, it is not the responsibility of the government only, given that the private sector also has a role to play.
There is need for industry to be competitive and reduce imports, which will in turn reduce outflow of foreign currency.
The 2018 national budget, which is progressive and presents a coherent set of guidelines for FDI inflows and identifies areas of consensus, where methodological development is needed shows government's commitment to improve industry.
The establishment of a National Competitiveness Commission also shows government effort to support industry, given that it will help address issues to do with competitiveness and ease of doing business for local and foreign investors.
However, measures need to be put in place in order to reduce concentration risk on the use of a single currency (US$), and promote the use of other currencies in the multi-currencies basket.
In terms of transport, we have been using road as the main mode of transport, yet it is costly compared to rail transport. Therefore, in this new economic order the government has to push for the resuscitation of the NRZ to help reduce the cost of doing business.
Smuggling needs to be addressed given that it has an adverse effect on the local market and is weighing in local industry.
Therefore, the government has to do a lot to curb these loopholes as these smuggled goods hurt the local industry and continue to destroy competition and growth in our economy, creating a black economy, thereby, evading duties and taxes which are supposed to be providing a good revenue for the government.