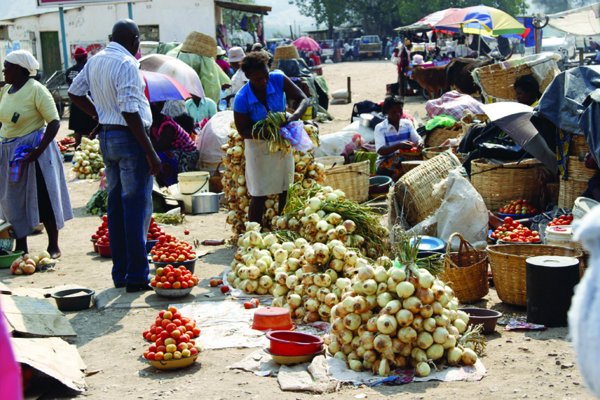 MABASA Chimuka (72) sat on the steel chair basking in the sun despite the soaring temperatures on a summer afternoon. A stone's throw from him lies a broken-down Toyota Surf that has become a habitat of the few chickens that wander about his homestead on Marondera's rural outskirts.
BY JAIROS SAUNYAMA
The infrastructure at the homestead is deteriorating with the four-bedroom house that used to be the talk of the village in the late 1990s now a shadow of its former self.
Chimuka, once a feared and wealthy entrepreneur, is now wallowing in abject poverty as he can no longer fend for himself after his numerous grocery shops closed due to mismanagement as well as the harsh economic conditions that prevailed at the dawn of the new millennium.
"Who doesn't know the mighty Chimuka in this whole community? I used to own a number of shops around. But things have changed, I am suffering. My lifetime savings did not last long. I am grounded now and struggling to put food on the table," he said with a grin revealing his tobacco stained teeth.
Chimuka savings fast ran out after divorcing his first wife before marrying a young woman who has since left him. Today, he is being taken care by one of his daughters who returned home after a failed marriage bringing along with her three children.
His predicament is one of the many by informal traders and self-employed individuals who failed to join the pension schemes in preparation for the unknown once they reached retirement or could no longer work age.
While those formally employed join the National Social Security Authority (NSSA) pension scheme with civil servants being under the Public Service Pension Scheme, informal traders or the self-employed can join the private occupational pension scheme that is administered by companies like Old Mutual.
However, it is still a mystery to a number of informal traders that one can save for future benefit as age catches up with him or her.
"I heard that they need a payslip and I do not have one. I have been selling vegetables on the streets for the past 12 years and I am not getting younger. It is difficult to save money in this era and if there is a pension scheme for vendors I would love to join," said 49-year-old Rhodha Makaza, a vendor in Marondera.
The dawn of the new millennium brought along an economic meltdown in the country that resulted in the death of the manufacturing industry.
A number of workers lost their jobs resulting in the growth of the informal sector.
Commissioner of Insurance and Pensions Commission (IPEC) Tendai Karonga said his organisation is currently working on establishing a micro-pensions framework that will be affordable to low income earners and those in the informal sector.
"As part of the broader pension sector reforms aimed at ensuring adequacy, sustainability, increase in pension coverage and affordability of pensions, the Insurance and Pensions Commission is in the process of developing a Micro-pensions Framework, which will enhance accessibility and affordability of pension products to low income earners and the previously excluded," he said.
"The thrust of the Micropensions Framework is to facilitate savings for retirement for people in the informal sector or those with irregular income by removing the onerous registration demands and relatively high pension contributions. For instance, farmers will be able to contribute to pension scheme seasonally, such as during the tobacco or cotton sales season."
For the past few years, a number of farmers have been into tobacco farming, a lucrative venture that has transformed the lives of many in the remote areas. However, despite all the massive earnings it is unfortunate that most young farmers are not planning for their future in case they stopped operations or get old.
Karonga added that his commission is encouraging the pension industry to craft products targeting the informal sector through the "mass pensions" or "micro-pensions" drive.
"The micro-pensions theme was one of the main themes of our Pensions Awareness day held at Mbare Musika and TM Hyper-supermarket in Bulawayo last year. The commission also organised a two-day course for Micro-pensions and Micro-insurance from 19 to 20 October 2017, which was attended by Industry players. The Commission is also planning a host of micro-pensions awareness and promotional campaigns in 2018, targeting the informal sector and encouraging industry players to tap into the market. Our thrust is to reduce old age poverty because studies have shown that this group is vulnerable to poverty when they can no longer generate income. Social protection for everyone regardless of their financial status is critical," he said.
Zimbabwe Informal Sector's Organisation (ZISO) leader Promise Mkwananzi said government should abide by the International Labour Organisation (ILO) rules and standards to protect informal sectors employees on the issue of pensions.
"Our government needs to abide by ILO standards on the issue of pensions. We have noticed that informal traders are very vulnerable, they are not covered, big pension organisations shun them. We call for the government to seriously consider a mechanism to cover as far as pension schemes are concerned," he said.
Although he boasts of being once rich during his youthful days, today Chimuka is one of the senior citizens who are living a pauper's life after failing to join a pension scheme. His experiences can be avoided due to the advent of micro-pension schemes from insurance companies that cater for those individuals in the informal sector.