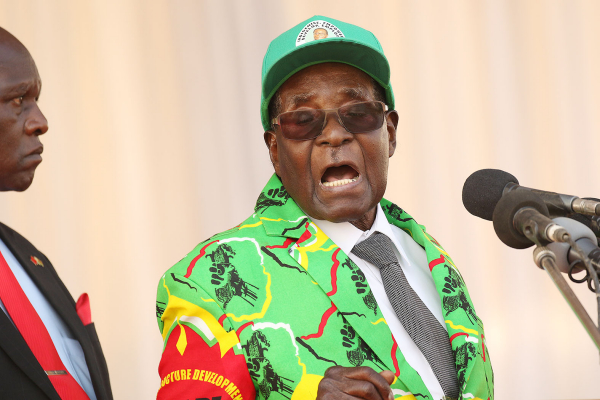 ZANU PF youth league deputy secretary, Lewis Matutu has said preparations are at an advanced stage for former President Robert Mugabe's birthday bash set to be held at his Borrowdale Brooke home, popularly known as the Blue Roof.
by JAIROS SAUNYAMA
Mugabe turns 94 on February 21.
Addressing scores of youth drawn from the nine districts in Mashonaland East province at Dema Rural District Council grounds on Monday, Matutu said the youth will take cakes to Mugabe's home to celebrate his birthday.
"Mugabe didn't wrong (President Emmerson) Mnangagwa, but was being influenced by his wife. The party asked him to rest after realising that he had no capacity to lead, as Grace was now running the show. The former President admitted to that and he voluntarily agreed to resign. He (Mugabe) is the father to (President Emmerson) Mnangagwa.
"Mugabe did a lot of good things like empowerment and land redistribution among others. To us, Mugabe is our icon, a revolutionary and we joined the party while he was there.
"As the youth executive, on his birthday, we are going to buy a big cake, we are going to team up with other members from party associations and head to Blue Roof. We will knock at the gate, and sing for him, that is if he opens. But if he doesn't open the gate, that's it," he said.
During Mugabe's reign, the youth league hosted lavish birthday parties for him using taxpayers' money as well as coercing businesspeople and villagers to fund the event.
Before the military intervention under Operation Restore Legacy that resulted in Mugabe resigning, the youth league had chosen the tourist resort town of Nyanga to host the birthday.
Matutu also warned the youth against wearing regalia adorned with Mugabe's pictures, saying it was now a thing of the past.
"I know you have pictures with Mugabe, use them when fixing cars or going to the dip tank, but when you come to events like this (rallies) we need regalia with the face of President Mnangagwa," he said.