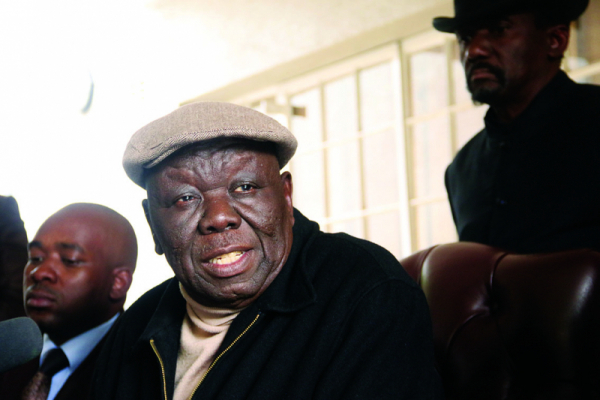 When there is a fight in the neighbourhood, good neighbours will come in and do whatever they can to de-escalate the situation and restore good relations.
By Justice Benjamin Paradza
At times people fight over very minor disagreements even in close relationships.
Others fight over imaginary lotto winnings before they have even purchased a ticket!
Regardless of what the fight is about, concerned neighbours will often try to reconcile the warring parties, as I seek to do here.
It would appear that a storm has been brewing in the MDC-T for some time and has escalated after its leader Morgan Tsvangirai's New Year message.
There have been various interpretations of his statement depending on which side you are on.
There are those who think the message works against their long- term ambitions or aspirations to lead the MDC-T.
Then there are those who read it as an anointing of some kind.
These contrasting views have taken their toll not only on the MDC-T, but on the alliance as well, and they have heightened the anxiety of the people.
The Zimbabweans United for Democracy (Zunde) is deeply concerned that there seem to be some of our colleagues in the opposition who are only interested in power for themselves and not in serving the people.
I take this opportunity to remind them that politics is a vocation, neither a profession nor a career.
There is no place in politics for those whose hubris and ego drives them to fight for positions and power.
While some of our friends in the opposition were still paralysed by shock following the 2013 election results, Zunde put forward a vision of a genuine, effective and inclusive coalition that is much broader than the regrouping of the MDC splinters that we see in the MDC Alliance.
We need to bring together other political formations, technocrats, representatives of the professions and the media, vendors, students, farmers, workers, war veterans, Diasporans and other relevant stakeholders in a coalition that values each for what they can contribute
The widely reported bickering in the MDC-T is both disappointing and retrogressive.
It must be condemned with the contempt it deserves.
The current discord can easily derail the coalition project if not managed carefully and in a timely manner.
When you are faced with change, there are only two options available: either you manage it or it manages you.
I call upon the antagonists in the MDC-T to give careful consideration to how they will manage the imminent change of guard as the post-Tsvangirai era looms.
One would imagine that, for a mature movement that has been around for nearly two decades, leadership change should be a natural, painless and smooth process for MDC-T guided by their constitution and their values.
If the party has not had a clear succession plan for the past 18 years, then it is likely to suffer the same fate as Zanu PF which once believed that former President Robert Mugabe was indispensable and immortal.
It was the absence of succession planning that brought about his disgraceful exit.
When it comes to practical realities of the opposition alliance, MDC-T is the natural core around which it should be formed. Therefore, it becomes a major concern to those genuinely fighting for a democratic, peaceful and prosperous Zimbabwe when the centre appears to be falling apart.
There are many people who made immense sacrifices and others who lost their lives while fighting for democracy in Zimbabwe.
They are the real heroes of the democratic struggle not those who are fighting for positions and self-aggrandisement.
I challenge MDC-T to undertake some serious introspection, to reflect on where they came from and where they want to be, to unite behind one leader, and become the nucleus around which an effective and inclusive coalition can coalesce.
Now is the time to put the national interest ahead of personal ambition and party rivalry.
Zanu PF has just transformed, seemingly getting stronger in the process.
It is folly for anyone to think that the opposition must stay the same.
It has to realign to the new realities on the ground.
I take this opportunity to urge all those proclaiming to be fighting for democracy to come together and march forward as one.
There is need for Build Zimbabwe Alliance leader Noah Manyika, Alliance for People's Agenda leader Nkosana Moyo and his National People's Party counterpart Joice Mujuru among others, to march in sync.
It is time to demonstrate that we are leaders who have national interests at heart. 2018 is upon us – there is no time to waste!
As a good neighbour, I will not turn away when there is chaos next door.
Zunder will continue to work tirelessly to support all efforts to bring together a truly united opposition.
Benjamin Paradza is an exiled judge of the High Court of Zimbabwe and Zunde president.