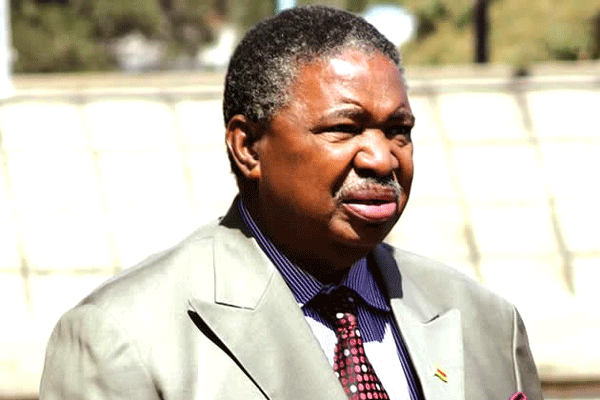 GOVERNMENT has remained mum over former Vice-President Phelekezela Mphoko's pension, weeks after he wrote a letter of demand for his benefits.
BY BLESSED MHLANGA
Mphoko's lawyer Welshman Ncube said they were yet to get a response from government on his benefits, although the former VP continues to enjoy police guard and State security.
"We have written to the government pointing out the constitutional obligation that they have, to the former Vice-President Mphoko … we have drawn their attention to the clauses in the Constitution … as things stand they are giving him all his other benefits in terms of his security, his close security, his police guard, they are all in place. We await for them to process his pension, his allowances in terms of the Constitution of Zimbabwe," he said.
Ncube dismissed war veterans' secretary-general, Victor Matemadanda's utterances, saying he was "a drunken man, whose opinion on Mphoko's pension" should not even be taken seriously.
"Don't run with opinions by drunken people, the Constitution provides expressly benefits and services which accrue to a former President and former Vice-President. It is stated in section 102 of the Constitution, it is in black and white. It is stated in the Presidential Pensions and Benefits Act and it's not an exit package," he said.
Matemadanda at the weekend said Mphoko should not be given his pension because he deserted office and, therefore, was not entitled to any payout by government.
Mphoko through his lawyers said he would proceed within the dictates of the law if government maintained its silence on his pension, which according to the Constitution, was a salary equal to that of a sitting Vice-President.
"They have not reverted back to us, if they don't we will cross the bridge when we get there, but if we get there we will proceed, as provided in the law," he said.
Before President Emmerson Mnangagwa was fired from office as Vice-President, Mphoko had a tiff with him, who while acting as President, accused Mnangagwa of misleading the nation, saying that he was lying that he was poisoned, eliciting a strong response in a bare-knuckle fight between the two former Vice-Presidents.