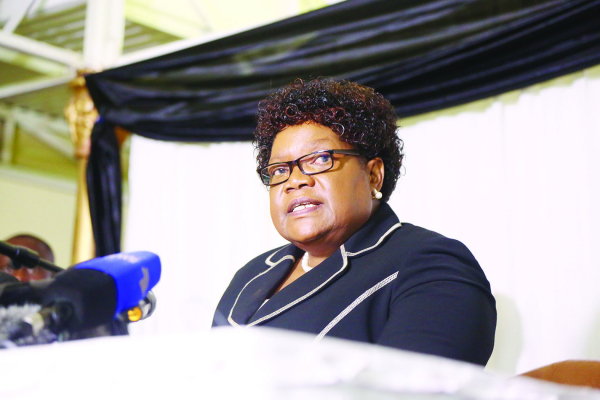 MORE than 80 Zanu PF members in Chiredzi, who were allegedly linked to the beleaguered G40 faction, have defected to former Vice-President Joice Mujuru's National People's Party (NPP), citing continued victimisation.
BY GARIKAI MAFIRAKUREVA
NPP spokesperson, Jeffrayson Chitando, confirmed the development last week, saying the defectors included former Chiredzi South district political commissar, Taurai Mativenga, Chiredzi North women's league chairperson, Shuvai Chirunga and Chiredzi West Ward 8 commissar, Ketsia Beni.
Mativenga said he decided to defect to NPP after he was labelled a G40 sympathiser and bashed by Zanu PF supporters at an inter-district meeting at Chitsanga Hall last month.
"I left Zanu PF because of ever-growing factionalism that is slowly turning violent each day. I was attacked by some Zanu PF members the last time I attended an inter-district meeting at Chitsanga Hall a month ago," he said.
"All perceived G40 members are being persecuted every day. In fact, we were physically and emotionally abused, as well as being barred from contesting for any position in the party or even public posts. I wanted to contest as a councillor in Ward 7, but I was informed that I was not eligible."
Other members reiterated the issue of perpetual harassment and discrimination of all perceived G40 members, and said they see NPP and other political parties as safe havens.
Chitando said people were now recognising his party.
"We are so happy that Zanu PF is crumbling like a deck of cards, and its members are finding other political parties as safe havens. Hundreds have promised to cross the floor and we are besides ourselves (with happiness) because of the developments … We are geared to take Zanu PF by the horns come election time," he said.
Contacted for comment, Zanu PF Masvingo provincial spokesperson, Ronald Ndava, said: "As Masvingo province, we have never expelled or victimised anyone along that line of thinking. Those are not Zanu PF members. As far as we are concerned, people are coming to Zanu PF in numbers instead. I am surprised that people claiming to be our members are going to NPP. There is no sign of NPP in Chiredzi except Dzikamai Mavhaire, who stays in Masvingo city," he said.