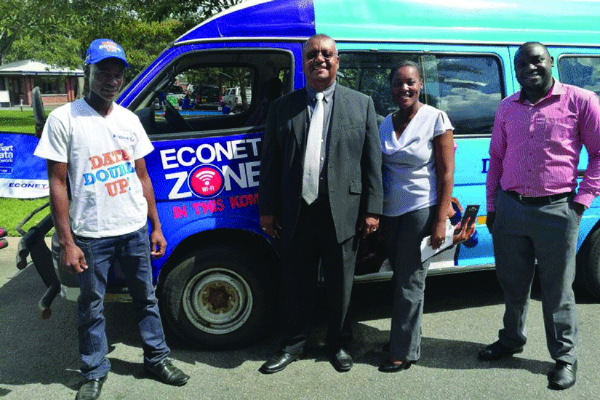 ECONET Zimbabwe will this year roll out 2 000 public WiFi zones and WiFi-in-vehicles, as the telecoms giant continues to widen its reach.
BY TATIRA ZWINOIRA
This comes as other telecommunications providers have also stepped up efforts to get a huge chunk of the market.
In emailed responses to NewsDay, Econet media relations and analytics executive, Fungai Mandiveyi said the company was now aiming to introduce its WiFi on long distance buses and tour vehicles as well as additional commuter omnibuses.
"Since we have launched this innovation in June last year, we have covered the whole country. To date we have 240 commuter omnibuses with our Econet WiFi Zones. Our Wi-Fi in kombis service is intended to work together with our public Wi-Fi zones, to provide public data access. Together, both services have close to 570 sites in total," he said.
"We believe we are on course to put up another 2 000 public WiFi zones and Wi-Fi in vehicles, including long distance and commuter omnibuses, as well as tour vehicles."
The WiFi in public transport was launched in June last year and is available in commuter omnibuses in major cities and towns across the country.
Econet said, on average, the company's daily unique users onthe WiFi in commuter omnibuses platform was about 40 000. This has led to the platform now contributing between 5 and 10% of the company's WiFi traffic per month.
Econet is the only ICT company offering that service.
Other operators have also embarked on WiFi innovations.
For example, NetOne introduced a home WiFi product called One-Fi around the same time as Econet, that allows home users or small offices to purchase a portable WiFi router with a sim card to activate to the internet.
For Telecel, the company spent the year expanding its WiFi hotspots across the country.
Potraz said data and internet continue to be major driver for the ICT sector's growth.
It further reported that technological and infrastructural advancements such as the rollout of 3G, LTE and fibre have created a favourable environment for internet uptake and use.
Last year, Telecel introduced Telecel WiFi Zones, on a pilot basis, offering a cheap alternative to internet connectivity, with 1GB costing $1, to gauge feasibility and public demand of the service, Telecel Zimbabwe chief executive officer, Angeline Vere said.
"In the pilot phase, we have about 70 WiFi zones in urban areas located mostly in Harare, Bulawayo, Mutare, Chitungwiza, Gweru and Victoria Falls, but we have plans to roll out even more zones accordingly countrywide, in conjunction with identified partners for faster and more comprehensive roll-out," she said.
"We are working on something related not only to WiFi but data in general, which we will reveal in the few coming weeks. Following feedback from the pilot programme, we are set to introduce improved WiFi connectivity in more places in the coming weeks."