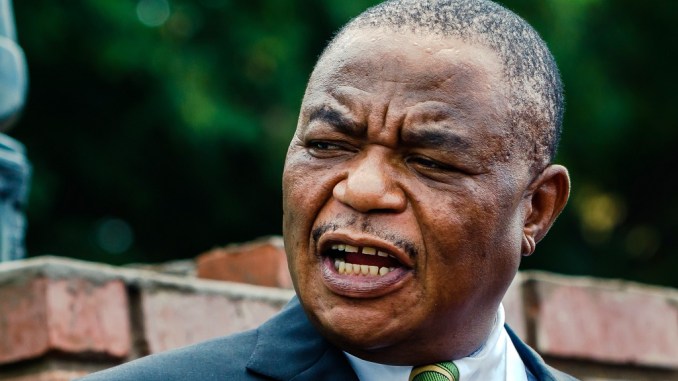 VICE-President Constantino Chiwenga yesterday caused a storm in the National Assembly when he appeared to rubbish Members of Parliament's questions during his maiden appearance for the question-and-answer session in the House.
BY VENERANDA LANGA
Commotion started after Kuwadzana East legislator, Nelson Chamisa (MDC-T) pointed out that all the countries in the world, except Zimbabwe, took care of their war veterans.
"This is now 37 years and we are still talking about it (welfare of war veterans). But how can we restore legacy when we continue saying that we are looking at it?
"Is it not going to affect the government's image? We must ensure war veterans are well taken care of," he said.
Chiwenga responded: "I wish you could continue with that spirit instead of boarding planes to America and other countries to ask for sanctions."
This did not sit well with opposition legislators, who asked him to withdraw the statement.
Other opposition lawmakers interjected and shouted that the country was ruled by the ballot, with Speaker of the National Assembly Jacob Mudenda threatening to chuck out some of them from the House.
But the MPs shot back, saying Chiwenga was the one who deserved to be ejected.
MDC-T chief whip, Innocent Gonese (Mutare Central) said the Vice-President's answer was out of order.
"I think the chaos happening in this House is as a result of the words uttered by the VP, where, in terms of responding to the question, he cast aspersions on the character of Chamisa by raising issues of him going to America, which have nothing to do with the question," he said.
"It is un-parliamentary for the VP to respond in the manner in which he did.
"It will be appropriate for the VP to withdraw that part and then respond to the timeframe instead of provoking pandemonium and chaos in this House."
Chiwenga responded: "The matter is withdrawn, but an arrow shot is a fly already gone."
His response attracted more interjections, with opposition legislators saying this sounded like a threat.
"The duties of a VP are of a top job. The VP has withdrawn, but he said something else about an arrow.
"If a former top army general says something like that, it sounds guerrilla-ish and threatening," Chamisa said, prompting Mudenda to order Chiwenga to withdraw the statement.
"I am retrieving the arrow," Chiwenga then said, after which order was restored.
Earlier, Makokoba legislator Tshinga Dube (Zanu PF) asked Chiwenga to explain why it has taken long to align war veterans' laws with the Constitution, as well as to explain if pensions of the former freedom fighters would be reviewed.
"On the issue of alignment of laws, the MP was minister of War Veterans," Chiwenga responded.
"The matter is receiving attention because there were issues that needed to be clarified in terms of what is meant by war collaborators and how are they vetted."