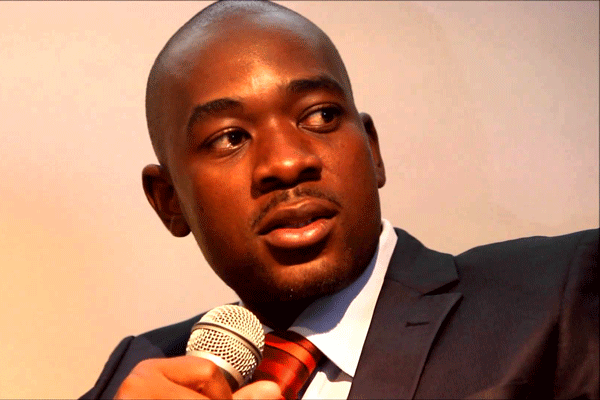 MDC-T vice-president Nelson Chamisa has claimed that the opposition backed the military-led "Operation Restore Legacy" to ensure the emergence of a "weaker and easy-to-defeat" leader in the form of President Emmerson Mnangagwa.
BY EVERSON MUSHAVA
Speaking at a Sapes Trust discussion on Thursday, Chamisa said it was for strategic reasons that the MDC-T supported the ouster of former President Robert Mugabe through military intervention as the 93-year-old veteran politician was a "tough nut to crack" when it came to elections.
He also vowed the MDC-T would block attempts by Mnangagwa to either bring forward or delay the 2018 elections.
Chamisa was responding to one of the panellists Ibbo Mandaza, who lashed out at the Morgan Tsvangirai-led party for "political short-sightedness" by backing the military and Zanu PF in the removal of Mugabe hoping to benefit from the spoils which they never got.
But Chamisa said the decision by his party was a political strategy to eliminate Mugabe, who was by far a stronger candidate than his successor. He said Mugabe's removal was a God-sent gift to his party which would now have to face a less charismatic leader with a track record of losing elections even to minnows.
"We make no apology for participating in the demonstrations. For us, Mugabe was a more difficult opponent than ED (Mnangagwa)," he said.
"It was a strategic decision we made. As far as we are concerned, ED is a weaker candidate compared to Mugabe. Why is ED weaker? He is charisma-free. Why is ED weaker? He does not have grassroots support. Why is ED weaker? He has no track record.
"His track record is of defeat. Defeat even to junior people like [former Kwekwe MP Blessing] Chebundo."
The Kuwadzana East MP added: "So for us in terms of confronting a political opponent, we had to redefine the opponent and we wanted to help Zanu PF to give us a weaker opponent in ED. We still believe that ED is our next guest for defeat. We have no doubt about that."
Chamisa said Zanu PF MPs were trying to use Parliament to have elections postponed because they were aware Mnangagwa would not stand a chance against the opposition party.
He vowed his party would block any move by the ruling party to try to use Parliament to postpone the elections.
Chamisa said the MDC-T had presented a list of demands to Mnangagwa to be fulfilled before elections could be held, among them a pledge by the military that they would accept the outcome of the polls.
In the past, the military has made a position that the Presidency was a straitjacket that could not be held by anyone without liberation war credentials, shutting out Tsvangirai who had posed a serious challenge to Mugabe and handed him his first electoral defeat in 2008.
Mandaza urged the opposition to immediately come up with a presidential candidate if they were fancying any chance of beating Mnangagwa.