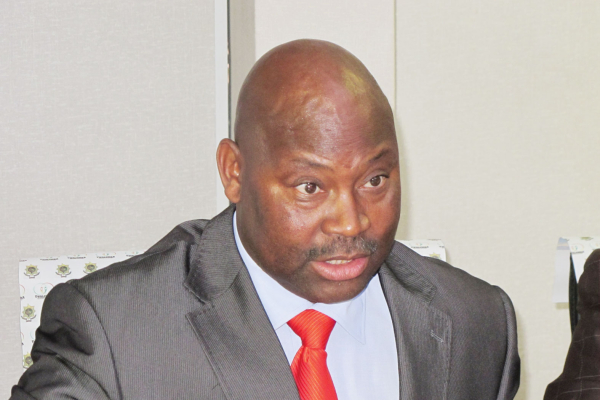 Castle Lager Premier Soccer League giants Highlanders finally confirmed the appointment of Madinda Ndlovu as the new head coach. Ndlovu has bounced back to guide the Bulawayo giants for the next three years.
BY FORTUNE MBELE
Ndlovu, who parted ways with Botswana side Orapa United a few weeks ago, takes over the seat that was left vacant by Dutchman Erol Akbay.
It's the fourth time for the Highlanders legend to be at the helm at the Bulawayo giants and is famed for assembling young talent that went on to win the league title under Rahman Gumbo in 1999, 2000 and 2001, before the 2002 class of Briton Eddie May and then in 2006 under Methembe Ndlovu.
Ndlovu will be assisted by former Bulawayo City coach Mandla Mpofu and Melusi Sibanda, who will also be in charge of the development side Bosso 90, which plays in the Southern Region Soccer League.
Mpofu was assistant coach to Bongani Mafu in 2015 at the Bulawayo giants, while Sibanda assisted Akbay last year after Amini Soma-Phiri was sacked.
All three were given three-year contracts.
Highlanders are yet to appoint a goalkeepers' coach.
Sources say Highlanders are talking to their former goalkeepers' coach Tembo Chuma, who is currently at How Mine, while Vezigama Dlodlo has been retained as welfare manager.
Highlanders chief executive officer Nhlanhla Dube confirmed the appointments yesterday.
"The length of the contracts for the senior team coaches is three years. The goalkeepers' coach will be confirmed in due course. Sibanda is assistant for continuity, stability and development, and is also a conduit of development, training methods and techniques. The technical manager and his staff have commenced the process of player selection. The list of the 2018 senior squad will be announced in due course," Dube said.
Ndlovu and Mpofu have been watching the development side at training which started on Tuesday and the head coach is believed to be aiming at promoting players from that side.
Bantu Rovers midfielder Munyaradzi
Chitambwe is training with the side.
Highlanders have confirmed they will not be renewing the contracts of foreigners Kalunga Tambwe and Yves Ebabali while inside sources have said Simon Munawa, Tendai Ngulube and Allen Gahadzikwa are on their way out.
Stylish midfielder King Nadolo is reported to be on his way to the South African National First Division.
"He (Nadolo) is out of contract. We have been negotiating with him with the intention of renewing his contract and the discussions don't seem to be yielding any positive outcome," Dube said.
The senior team starts its pre-season training next week.
The Bulawayo giants have retained the medical team of doctor Hillary Tshuma and physiotherapist Loyal Nyika.
Developmental side coach Sibanda will be assisted Gift Lunga Jnr in the Division One side with Tundu Dube as manager.
Lunga is also coach for the Under-18s, with Sizabantu Sibanda at the Under-16s and Daniel Ngwenya with the Under-18s with Smart Moyo.