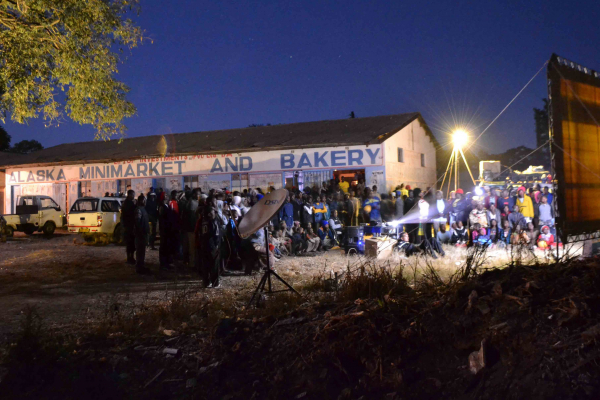 ALASKA — It is Wednesday mid-morning and we arrive at Alaska Mine's main terminus, where we are greeted by middle aged women jostling to meet pupils at both Alaska primary and secondary schools break time to sell freezits and maputi.
BY NHAU MANGIRAZI
These are some of the few women left here battling to make ends meet as the majority have travelled to Chinhoyi, about 15km away, where they rely on vending for survival as unemployment surges following the closure of the mine in 2001, plunging the livelihoods of former 254 workers and their dependents into destitution.
The plight of former workers at smelting mines, including Sheckleton and Mhangura, is now an open secret.
Travelling within the dusty compound, a barren netball field near few dotted shops looks deserted.
The pitch is adjacent to a giant soccer stadium that remains one of the best in Mashonaland West province, but stand out as a white elephant for residents here.
The clinic is situated on the right side, where few people are going in for medical check-up to different ailments, as some women are fetching water from a solar-panelled borehole that brings clean water to the former copper mine workers.
Walking about 500m south of Alaska mine compound, the area once reserved as golf course has been parcelled out for residents, as some of them try to embrace the land reform for subsistence farming.
As you walk along the dusty road, some young boys are kicking around a plastic ball with the hope that one of them will be an international star in the name of Tafadzwa Rusike.
Groomed from dusty streets by then lowly Northern Region Division Two side Alaska Lions, Rusike made his name playing for Caps Unite and Dynamos locally before going to South African side Ajax Cape Town and had trials in Belgium, making him an international soccer player who makes Alaska residents proud at all costs.
"My wish is to follow Tafadzwa's footprints as an international soccer player," 14-year-old school dropout Ronald Pearson says. As we travel around the area, there seems to be a sparkle of life at the deserted netball pitch in the afternoon as some women and girls start training.
The zeal of netball lovers is identifiable as more people do away with their household chores to cheer up their favourite players.
For many residents here, sport is part of the community.
Mavhuto Kambadzo (44) is a former star player for both Mhangura Football Club when he used to play alongside the late Benjamin Zulu, who had a stint with Tornadoes owned by the late former President Canaan Banana.
Kambadzo also once played with David Gurajena.
Kambadzo a midfielder during his time is recovering from an eleven year stroke.
"We used to enjoy mine sporting life as there were many disciplines that were being sponsored. I was part of Mhangura side that brought life into Alaska team that was then in Division One side, while our seniors were in the Premier League," he says.
He is part of statistics of how sport has been greatly affected by the mine closure in 2001.
Kambadzo later joined Asher Mine before going to Lynx Mine near Karoi in 2000, where he suffered a stroke while he was coach for the Division Two side.
"It is my hope that the mine can be reopened and assist talented players in soccer, netball, rugby, hockey and bowling among others, as we had all the facilities for these disciplines," he says in nostalgia.
The father of four girls attended both primary and secondary school in Mhangura.
Another local star, who is a role model is former national team netballer, is Anetolia Chembe, now a trained local primary school teacher.
"I was among three players selected from Alaska netball club to join the national team'', she said.
Chembe bemoans their lifetime as players, as the mine used to promote sports from different mines.
"These mines used to be hives of activity during inter-schools and inter-mine competitions. By then, mine life was the real root of best players, as most of them were committed. Talented young players had a future, as they were granted of employment opportunities, but now, it's long gone for the majority of youngsters," the mother of three, who looks fit because of regular training, said.
As a defender, Chembe was nicknamed "Durawall" for her defensive exploits, but she still enjoys her life in sporting activities.
She is renowned for promoting netball locally as both a teacher and netball coach here.
Her former teammates include Albertina Gono, now playing with army side team in Harare, Dorika Chasauka and the late Gertrude Rusike.
Chembe is inspirational to many locals here, but admits that sports personalities must strive for other professionals to be taken seriously.
"As much as I played well in netball, I pursued my educational path, hence my qualification as a teacher. During our time, players were rewarded for their talents and got permanently employed and earned a living. We wish that time can be revisited but all rest with reopening of mines," she said.
As we bid farewell to many of the residents longing for the best part of their life, the deafening silence on reopening of closed mines, including Alaska and Mhangura, that used to have their blood stimulated with quality sportsmanship, remains a pipeline dream.