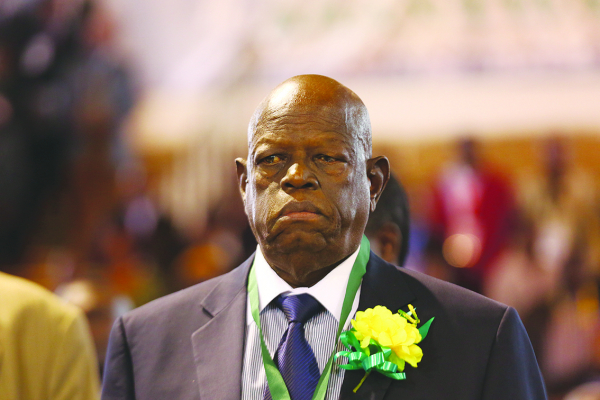 THE Dumiso Dabengwa-led Zapu has slammed former War Veterans minister Tshinga Dube after he came out in the open saying he organised youths who booed Grace Mugabe at an interface rally at White City Stadium in Bulawayo on November 4.
BY SILAS NKALA
Some youths and war veterans booed Grace when she started attacking then Vice-President Emmerson Mnangagwa, accusing him of abusing his office by wanting to cause the arrest of former Higher Education minister Jonathan Moyo.
Dube over the weekend was quoted as saying he was behind Grace's heckling on the day, much to the chagrin of Zapu.
"We roundly condemn Tshinga Dube for his disgraceful admission and bragging that he is the one who hired the Zanu PF thugs who booed (former President Robert) Mugabe and his wife at White City Stadium recently. Dube's admission is testimony to the long-held fears and complaints that old politicians are in the habit of abusing youths by giving them sick monies to engage in violence on their behalf," Zapu deputy spokesperson Iphithule Maphosa said.
"The tired politicians, old and in conflict among themselves, take advantage of desperate unemployed youths and use them to fight their wars. It is worrying that Tshinga Dube can brag about paying Magura Charumbira and his sick-minded crew this time as the country prepares for elections by July 2018. Our fear as Zapu is the proliferation of such madness as it seems Dube may not account for his irresponsibility at White City."
Maphosa said Zapu was worried for both the vulnerable citizens who do not share the same ideology with Dube and his party Zanu PF.
"Dube, instead of using the unemployed youths, should advise his counterparts to rebuild the economy they so destroyed in the last 37 years, in the process rendering millions destitute and desperate," he said.
"We, however, condemn his actions, confession and boasting about buying youths as machines of anarchy, especially considering that the same Magura Charumbira he paid for violence has been terrorising Bulawayo vendors in the aftermath of White City."
"We, therefore, demand an apology to Bulawayo from Dube, or else he satisfactorily absolves himself from the violence on vendors and ordinary citizens by Charumbira."
Maphosa said the next time Dube and his ilk decide to be irresponsible, they should do it by themselves and leave youths out of actions that were devoid of Ubuntu.
"His actions and subsequent boasting raise many questions about his leadership, especially for a Member of Parliament who should be leading by example. Is this a warning sign for what is to come in 2018 as we go to the polls? Are those who don't subscribe to Zanu PF up for violence at the hands of abused Zanu PF youths?" he said.
Contacted for comment, Dube said those who are accusing him are entitled to own opinion.
"Tell them that it's their opinion and I cannot argue with them over what they think, they are entitled to their own opinion," he said.
After the expulsion of then Vice-President Mnangagwa last month, youths in Makokoba demonstrated at the constituency offices calling for Dube's ouster accusing him of having organised the youths to boo Grace which allegations Dube denied.