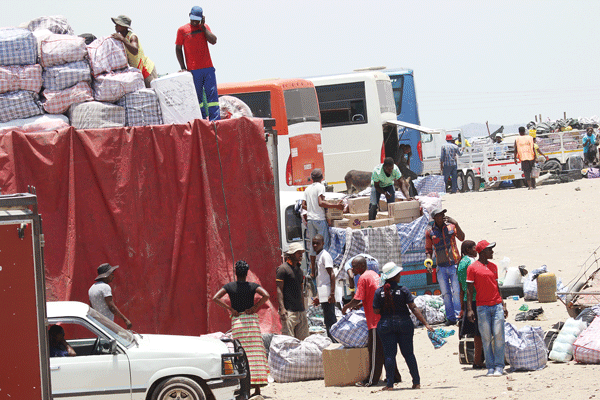 LONG queues have resurfaced at the country's border posts amid reports that staff were manually processing import and export documents following a Zimbabwe Revenue Authority (Zimra) Customs and Excise Department online systems breakdown.
by Own Correspondent
Scores of motorists and haulage trucks were being held up for hours on end at Beitbridge and Plumtree border posts, which handle the bulk of the country's imports by road.
The bottlenecks, which reportedly started on Wednesday, are likely to frustrate holidaymakers expected in their thousands.
Both Zimra spokesperson, Canisio Mudzimu and board chairperson, Willia Bonyongwe were not reachable for comment on their mobile phones.
Sources at Beitbridge Border Post said they suspected that the system could have been sabotaged by some senior officials suspended a few weeks ago on various allegations.
Among those suspended were managers, who dealt with loss control and information communication technology development responsible for the online systems.
"The automated system for customs data commonly referred to as Asycuda World Plus, which Zimra uses, has had numerous problems ever since some senior officials were relieved of their duties at the country's major revenue generator," a source from Zimra said.
"The coincidence that they are suspended and the system breaks down is too suspicious considering certain information had to be retrieved. They were not working alone remember."
Shipping agents at Beitbridge yesterday said they were experiencing difficulties in manual processing of bills of entries for commercial goods.
"On submission of manually prepared entries, you are required to have a summary of your account, which you can only get if the system is online," a clearing clerk at Beitbridge said.
"Two weeks ago, they (customs and excise) said they were upgrading their servers, but that was the beginning of more problems."