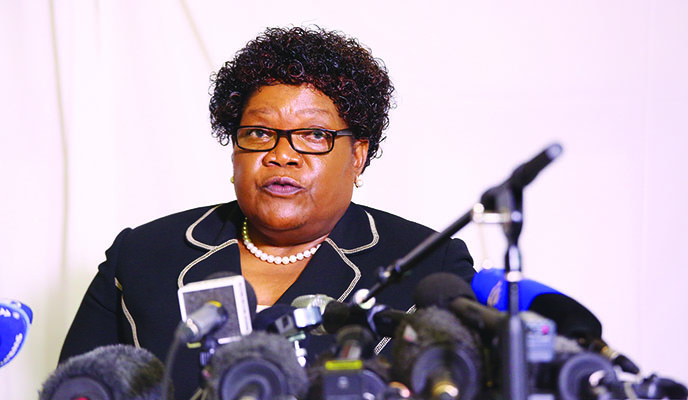 NATIONAL People's Party (NPP) leader Joice Mujuru has been described by her former top ally, Wilbert Mubaiwa, as a dictator who lacks direction and possesses a "chronic lethargy" in decision-making.
By Everson Mushava
Mubaiwa made the claims in his resignation letter which he handed Mujuru a few minutes after appearing before the party's national disciplinary hearing on Thursday charged with undermining the former Vice-President.
He claimed he had been elected party treasurer-general, but was blocked by Mujuru before the party's national convention, where he was supposed to be confirmed.
He appeared before the national disciplinary committee headed by the party's vice-president Sipepa Nkomo, where he accused the party of flouting its own constitution by disregarding the outcome of the internal elections.
In his resignation letter dated November 2, Mubaiwa said he was quitting because of Mujuru's leadership which he said was incompatible with democracy, constitutionalism, rule of law, accountability and transparency.
He claimed Mujuru gave many people hope when she joined opposition politics, but her leadership deficiencies had put them off. "The split of ZimPF on February 8, 2016 sent shock waves through many, but we, nevertheless, battled to suppress and ignore what clearly was a step in the wrong direction," Mubaiwa claimed.
"There was talk by the departing team of lack of direction, dictatorship, lethargy in decision-making and an inability to make decisions on your part. We took the burden to explain your actions and inactions.
"I then personally waited patiently to see the leader in you. This never transpired. I never saw the leader."
Mubaiwa added: "Although we now know that there was an element of truth in their words, we persisted hoping to build a better future for all Zimbabweans by ushering a new era of political governance based on freedom and democracy, buttressed by constitutionalism, accountability, transparency and tolerance and the hope for an improved internal political environment and governance.
"This was the beginning of a grave and tragic leadership failure bordering on dictatorship."
Mubaiwa claimed Mujuru's undemocratic practices of candidate imposition, unilateralism, cronyism, exclusion, political bullying, harassment and molestation and, generally, putting personal relationships ahead of the party had been the hallmark of the NPP administrative culture.
"This goes against democratic principles and norms that ought to underpin the NPP constitution and, therefore, against my conscience as a person," he said.
"It is my nature not to accept any unethical, immoral practices and values and will never be coerced to directly or indirectly (silence) endorse such practices at any price. I respect authority, but will never be intimidated by it."
Mubaiwa said he attended the hearing knowing full well that as an ordinary member of the party, he was not supposed to be appearing in front of the committee after having been effectively removed from the top six by virtue of his non-confirmation on August 9, 2017.