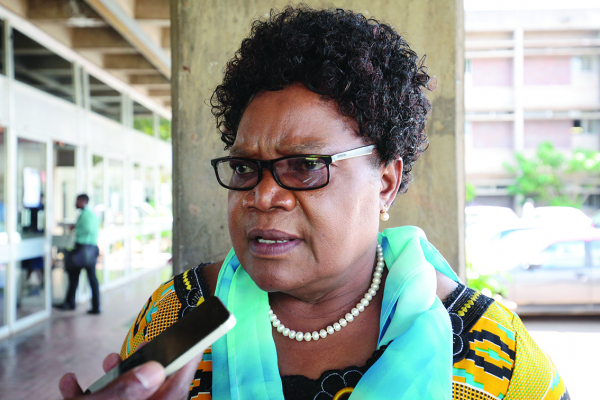 BY SILAS NKALA THE MDC-T Bulawayo province has claimed that the Joice Mujuru-led People's Rainbow Coalition (PRC) was a ploy to divide the MDC Alliance votes on behalf of the ruling Zanu PF in next year's harmonised elections.
PRC recently endorsed Mujuru, who is also leader of National People's Party (NPP), as its presidential candidate for the 2018 polls.
PRC interim chairman Samuel Sipepa Nkomo said their alliance will be officially launched in Bulawayo on November 11 at White City Stadium or Stanley Square.
Other members of the PRC include Democratic Assembly for Restoration and Empowerment, Zimbabweans United for Democracy and a faction of the People's Democratic Party led by Lucia Matibenga.
But on Friday, MDC-T Bulawayo spokesperson Felix Magalela Sibanda, who is also MDC Alliance provincial chairperson, lamented the repeated efforts by "immature political parties to take Bulawayo residents for a ride".
Sibanda said as a democratic alliance they were not against multi-party coalitions, but warned the PRC was a Zanu PF agent to divide opposition votes.
"We urge Mujuru and her colleagues to put the country first by joining the formidable MDC alliance. We are calling for this coalition to re-think their position whether it is in the best interest of Zimbabwe or it's just self-serving as self-managed leadership who haven't been elected by a well constituted congress," he said.
"We are, therefore, urging all peace-loving citizens to ignore these machinations by perennial failures."
"Bulawayo residents are taken for a ride by all political nobodies, amateurs or experimenters. It is on record that many bogus or dubious parties like to launch their formations in Bulawayo. Is Bulawayo and its people so cheap that perennial political failures want to test their popularity in the city of Kings and Queens?" Sibanda said.
"As a peoples' party and formidable MDC Alliance we would like to forewarn the so-called People's Rainbow Coalition led by Mujuru, Gorden Moyo, Samuel Sipepa Nkomo and Lucia Matibenga. Analysing this coalition, it is truly a surrogate of the ruling party, Zanu PF in order to destabilise the MDC alliance."
Contacted for comment, Nkomo said: "I am the VP of a party at national level and he (Sibanda) is just a spokesperson in Bulawayo. Responding to his claims will lessen my credibility."
"In the first place MDC Alliance was initially launched in Harare and their second launch was in Bulawayo. We also did our initial launch in Harare and we will be launching the second one here like what they did so what is wrong with that?"
Nkomo added: "We have a memorandum of understanding with MDC and we are engaged with top leaders of the party which Sibanda might not be aware of," Nkomo said. "Just tell him that I am not interested in talking to him, I am talking with his leaders. For him to claim that we are Zanu PF is misplaced and he must desist from making such remarks."
PRC is one of the three alliances formed by opposition parties with a view to challenge President Robert Mugabe in next year's elections.
The other grouping is the MDC Alliance led by MDC-T leader Morgan Tsvangirai.
This group comprises MDC-T, Welshman Ncube's MDC, Tendai Biti's other faction of the People's Democratic Party, Agrippa Mutambara's Zimbabwe People First, Transform Zimbabwe led by Jacob Ngarivhume, Multiracial Christian Democrats and Zanu Ndonga.
The third alliance is the Coalition of Democrats led by Renewal Democrats of Zimbabwe president Elton Mangoma.