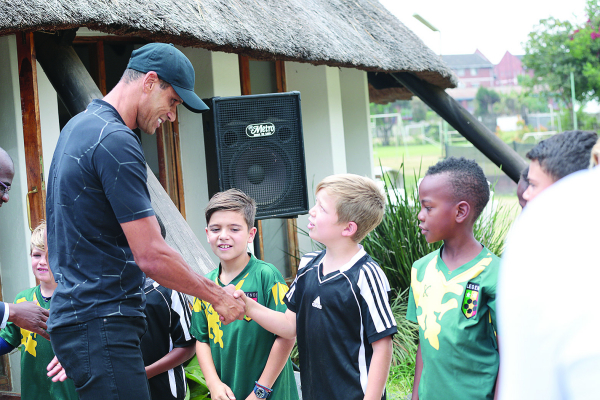 Brazil and Barcelona legend Rivaldo Vitor Borba Ferrera is entertaining the idea of assisting Zimbabwean football and possibly set up a football academy in the country once the much-anticipated Warriors-Barcelona legends match set for the National Sports Stadium next month is played.
BY MUNYARADZI MADZOKERE
The 1999 Fifa World Player of year and Balon D'Or winner, who was in the country yesterday, discussed the possibility of setting up football projects in Zimbabwe with Sports and Recreation minister Makhosini Hlongwane at his offices.
Also explored was the idea of exploiting Rivaldo's links to get more Zimbabwean players into the European leagues.
"We had a brief discussion with Rivaldo and his team, colleagues from Zifa and the Sports and Recreation Commission (SRC), apart from the much-anticipated match that is coming, the possibility of Rivaldo assisting with linking Zimbabwean players into the European leagues," Hlongwane told journalists during a Press conference yesterday.
"And we also discussed the possibility of Rivaldo and his team facilitating in setting up a football academy in Zimbabwe. On his part, Rivaldo pledged to work with us and he is going to look into the proposals that we made to him."
Rivaldo arrived in the country on Monday as part of the promotion of the aforementioned exhibition match that would bring a host of Barcelona legends into the country.
His visit follows that of Dutchmen Patrick Kluivert and Edgar Davids as well as Spanish football agent and ex-Barcelona trainee Rayco Garcia in August.
The 2002 World Cup winner was accompanied by renowned Spanish lawyer and agent Manuel Auset and Rayco.
Speaking at the Press conference, Rivaldo acknowledged that the idea of setting up an academy had been discussed.
"We were talking about the challenges and the opportunities in Zimbabwe. I am really excited and I love these kinds of challenges and I am ready to assist and do what I can.
"The November 5th game, I am so sure, will be a big successful event and after that it will be easier to think about these projects, challenges and academies and make Zimbabwean football go through successful phases," Rivaldo said.
Commenting on the exhibition match, Rivaldo said: "I like these kinds of games because I know that many people who love Rivaldo never had an opportunity to see me play. I would like to thank the honourable minister for organising the game and everyone who is involved to make it possible, deep in my heart I am very happy to be part of it."