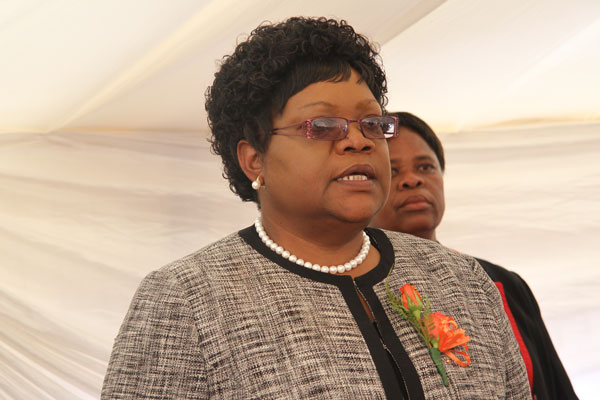 JOICE Mujuru's National People's Party (NPP) and its allies will tomorrow launch a separate alliance ahead of the 2018 general elections to counter the MDC Alliance led by MDC-T leader Morgan Tsvangirai.
BY BLESSED MHLANGA
Sources within the party said the NPP would team up with Zapu leader Dumiso Dabengwa, part of People's Democratic Party (PDP) led by Lucia Matibenga, Zimbabweans United for Democracy (Zunde) and Democratic Assembly for Restoration and Empowerment (Dare) to form the coalition.
"Deals have been signed and there is a proposal to launch the alliance on Friday (tomorrow) in Harare where Dabengwa is expected to land the post of chairperson. Mujuru will be the presidential candidate, while Matibenga's PDP will also get an influential position on the table," the source said.
NPP vice-president Samuel Sipepa Nkomo confirmed that the party was on the verge of launching an alliance that is ready to wrest power from Zanu PF and President Robert Mugabe.
"We were supposed to launch the alliance this Friday, yes, but I have been trying to reach our secretary-general (Gift Nyandoro) to get clarity because there are some outstanding issues. The deal has not been finalised, so get hold of Nyandoro for the finer details," Nkomo said.
Nkomo said he will be travelling to Harare today ahead of the launch which will leave Tsvangirai and Mujuru's negotiations on a potential coalition in limbo.
Nyandoro was unreachable, but party spokesperson Jeffreyson Chitando said, while he did not have details of the launch, the NPP would not be imposing its name on the alliance.
"The main reason we refused to get into bed with MDC Alliance is because we said we want a neutral name. We are, therefore, not going to be forming an alliance that bears our name. Those who have proposed that name are just mere dreamers," Chitando said.
Contacted for comment, Matibenga said she was in a meeting and promised to call back, but had not done so by the time of going to print.
Dabengwa's mobile phone went unanswered.