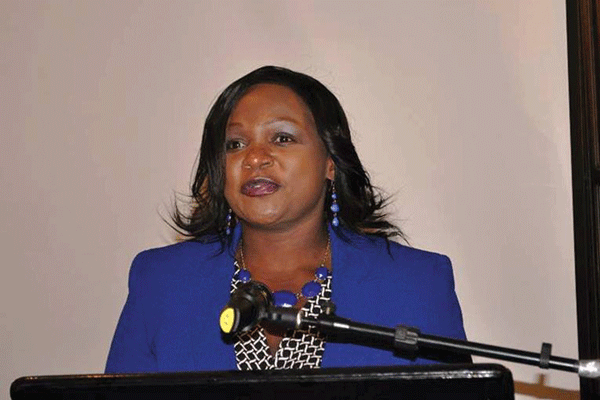 SECRETARY for Justice, Legal and Parliamentary Affairs Virginia Mabhiza yesterday decried the heavy indebtedness of the ministry to institutions such as Copac due to failure by Treasury to disburse money which the ministry is allocated through the National Budget.
by staff reporter
Mabhiza told the Ziyambi Ziyambi-led Parliamentary Portfolio Committee on Justice that the ministry still owed a total of $850 000 to different service providers for services they provided to Copac during the constitution-making process in 2013.
Some of the institutions include ZBC ($250 000), CMED ($481 000), and Vickstrom, a company that provided broadcasting equipment ($114 000). Mabhiza said the Zimbabwe Prisons and Correctional Services (ZPCS) owed $21 million to its service providers while the Attorney-General's Office owed $850 000 to its various suppliers.
"ZPCS is grossly underfunded especially when they are expected to feed and clothe an average 19 000 inmates and they require around $28 million per annum because the standard diet is $3 per prisoner, but we were allocated $2 800 000," Mabhiza said.
She said only $399 000 was allocated for medical expenses for inmates when $4 635 500 was needed for medical expenses and procurement of drugs as prisoners were prone to communicable diseases.
"ZPCS incurred $1 091 455 outstanding hospital bills and some of the service providers are taking us to court. We have more than $5 million owed to Zinwa and Zesa and some stations have been cut off water and electricity."
Mabhiza said some of the challenges at the ministry included limited co-operation from line ministries in alignment of legislation who had not been forthcoming in terms of bringing forward their laymen's Bills.
"This year we drafted 36 Bills relating to alignment and ease of doing business laws and 300 statutory instruments. We assisted 1 624 indigents for free legal advice and we now have High Courts in Masvingo and Bulawayo," she said.
Zimbabwe Anti-Corruption Commission (Zacc) commissioner Catherine Muchechetere also complained over political interference in Zacc operations.
"We want protection from Parliament because we do not want politicians phoning us with subtle threats. Please help us," she said. Zacc secretary Silence Pondo said in 2017 the commission was allocated $2 180 000, but as at September 30, only $1 701 739 was disbursed.
Zacc owes different service providers a total of $318 254 with commissioners still to get their service vehicles.