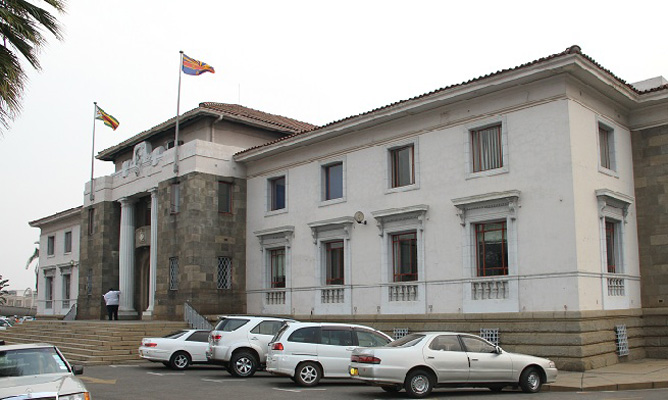 HARARE City Council is hunting for a new town clerk and the position could drag on for months if reports of plots and sub-plots to impose certain personalities are true.
By Richard Chidza
However, after clashing with the government, council has been forced to eat humble pie and has begun a process to fill the position left vacant after the rejection of banker James Mushore by Local Government minister Saviour Kasukuwere last year.
Three names have emerged as leading contenders for the top job. NewsDay senior reporter Richard Chidza (ND) caught up with one of the candidates, Cainos Chingombe (CC) who is council's human capital director and asked him on his plan for the city if appointed. Below are excerpts:
ND: Who is Cainos Chingombe, give a brief history about yourself?
CC: I was born in Buhera district. I hold several qualifications acquired over a period spanning from the 1970s, where I began my career in the education sector before breaking into corporate world, where I have been anchored and have acquired vast experience at the top level.
I have served in various corporate leadership capacities. I hold three doctorate degrees (PhD) in management, PhD in governance and leadership and a PhD in business leadership as well as a masters in public administration and masters in leadership and change management among a plethora of diplomas in management and administration. I belong to a number of professional bodies related to management and have served as council human capital directorship since 2008.
ND: Why do you think you are the right candidate for the Harare town clerk post?
CC: It must be fully grasped that Harare has faced a plethora of problems for a long time. The troubles bedeviling Harare demand an individual who has an intimate knowledge of the anatomy of council affairs.
This is no longer the time to experiment. It's a key attribute to grasp the largesse of council problems. I have been within the system and have crafted a 52-page document with ready remedies to a myriad of hitches that face council today. I am not going to waste a second trying to learn the ropes.
My first 100 days in office will see a marked difference in the management of council affairs. My solutions to council problems are not a figment of imagination; I won't have to grope in the dark as I have solutions for most of the council hotspots.
I have comprehensive knowledge of structural, legislative and regulatory framework for management of local authorities, public and private sectors and have a robust understanding of national, regional and public sector policy development.
I have a positive bias on strategy formulation and execution. I embrace a diagnostic approach to complex situations, engages a broad set of behavioural and leadership styles depending on the situation as well as committed to continuous improvement in performance.
ND: Do you believe you have done enough as director to warrant a 'promotion' to manage affairs of the city?
CC: I can say so and with conviction too, my arrival at the council in this capacity has witnessed a number of significant changes, but I will, in this instance, highlight a few major ones. Upon my arrival, council had no key listed and shared vision.
I successfully crafted Vision 2025 (Harare to achieve world class city status by 2025), whose launch brought the city closer to the people and putting it on the world map. Also, I managed to create a fertile ground for employee engagement, resulting in the council recording zero industrial action since 2009 despite the fact that the organisation is highly unionised with four vibrant trade unions. I have fought resolutely to foster a spirit of engagement between workers and management.
Again, I spearheaded organisational transformative change in 2009, 2011 and 2014. I demonstrated a great sense of courage to navigate a volatile, uncertain and complex business situation as evidenced by the suave approach I took in addressing the bloated and top-heavy organisational structure. There were 15 directors and 45 managers at the top and a bloated establishment of an over 12 000 workforce and this did not make economic business sense. The number of directors was thus cut down to eight and managers to 36, while the city establishment was reduced from over 12 000 to 9 381 and this saved council $16 million on an annual basis.
Furthermore, I facilitated the integration of integrated results-based management into the City of Harare governance system, thereby, fostering a deep culture of accountability and performance. Another notable thing is the pioneering of employee wellness programmes in 2014 which spread across to 10 local authorities under the banner inter-city sports festivals, which is graced yearly by ministers.
ND: What is your plan for the city if you were to be appointed town clerk?
CC: Harare has lost its Sunshine City status due to poor service and financial performance. Only a transformational leader with a blend of diversified leadership styles can serve Harare in the town clerk's position effectively.
If I am appointed to this position, Harare can be retained to its past glorious sunshine city status in the shortest period possible. I have immediate plans, medium term and long-term plans. The most pressing issue is to decongest the city; a whole host of problems throttling the city would disappear with a systematic decongestion of the city centre.
To achieve this, an engagement of the necessary key stakeholders is critical, not a confrontational approach. The general idea is to gain the cooperation of all parties; to have them participate willingly in the process. As a game changer, I will also seek to partner strategically with Zimbabwe National Road Administration (Zinara) and the police in the effective management of roads administration and transport as well as traffic transportation within the CBD. Mushika-shika for a long time has been a menace and I have an eight-point strategy to tame this ill.
Another critical area that I will fix within my first 100 days in office is the issue of disorder in the CBD. Currently the open space system has not been effective as a tool to decongest the city centre as people have shunned the lack of facilities in the identified spots. I will aim to put in place open spaces that are adequately equipped as to attract businesses and traffic to their sides.
You recall that Harare has been divided into eight administrative zones, it is my plan to fully implement this concept by empowering the zonal administration to be a one-stop shop in order to improve our service delivery in the areas of refuse collection, road patching, urban planning and development, housing provision, water management, infrastructure and development control as well as health service delivery. Council is losing massive revenue in uncollected revenue from many of its infrastructure.
There are a number of otherwise profitable structures that have been sitting white elephants and we will definitely seek to harness that reservoir of important revenue once the decentralisation concept is fully operationalised.
Harare has the potential to grow sustainably, and for this to happen everyone should play his or her role and as the CEO, I will make sure that there is a robust intellectual engagement with universities, business engagements with business and potential investors as well as social engagements with our communities.
Restoration of good corporate governance is part of my plan. For Harare to attract investment and public sympathy and appreciation in its projects, good governance should be maintained.
In this area, I will address issues of accountability, honest, transparent, integrity as well dealing with corruption of any form. Specifically, cleaning the valuations roll, undertaking urban reforms under the ease of doing business concepts, transparent allocation of Harare Water Projects for effective beneficial use, debt management, reorganisation of Council tendering process. The future for Harare to be a world class city is very bright, this can be achieved and Harare is going to be a better place to live and do business in.
ND: What areas do you think requires urgent attention for the incoming town clerk?
CC: Harare is burning in as far as service delivery is concerned. The City has become a hybrid of criminal activities. The new town clerk has to first deal with urgent short term issues and progressively to medium term and long term service delivery strategies.
Urgent issues evolve around City decongestion, dealing with lawlessness in the CBD caused by vendors, transporters and briefcase business operators. This has given birth to numerous problems.
There is urgent need to address issues of potholes, drainage clearing, vending in CBD, public safety, staff supervision, revenue leakages and corruption, housing delivery, water and sewerage reticulation, financial management, manage employment and overhead costs, expenses for the consumables, commercial property development and industrial sites as well as managing stakeholder perceptions.
Systematic transformation is needed. The ideal of a world class city by 2025 without addressing issues of unplanned settlements and unplanned and substandard central business district developments remains a mirage. The new town clerk has to address these issues within the first 100 days in office and progressively move to address other issues like road rehabilitation, health service construction, pursue Kunzwi Dam construction for improved portable water supply and modern dumpsite management.
In addressing these pressing issues, the incumbent should be able to manage the current prevailing political and cultural dichotomy in the city.
ND: Harare has been hogged by scandals and your name has featured in some of the reports. Would you want to respond to this?
CC: One thing that should be clearly grasped is that there is an issue of things that are under one's direct control and some that are ultra-vires.
It is a bit unfortunate when one's name is sucked in controversies where your hands are tied. As a director, for instance, it is not in my entire or sole power or jurisdiction to make certain decisions that would immensely benefit council.
For example in 2009, I instructed that all employees who deserted their duties during the hyper-inflation era without reasonable cause should not be allowed at work until their cases were finalised. In the process I saved council millions of hard-earned foreign currency by then, but it was very unfortunate that we were not collective in addressing and finalisation of their hearing cases, ending up council losing some of the cases referred to conciliation and arbitration.
Yes, I might have in some instances, but what is important for me was to remain focused. In this instance the ultimate goal was achieved, money was saved. I am proud about it as ultimately I instilled a sense of discipline among employees.
A number of hurdles are encountered along the way, but in a town clerk capacity some things are well within range and it becomes fair to assign failure to one when they are in control of affairs. It is implausible that someone in a lower position can be held to account for decisions made by the authority.ND: Harare City Council has failed to pay its salaries under your watch, what fresh ideas do you think you will bring into management, that you have not from your current position?
CC: Issues of salaries is not a one-man band especially within a local government set up. Remember you eat what you kill, when the coffers are empty, there are no business miracles that can bring employees' salaries to the table.
The finance department has to look for the money and then fund salaries account so that the director responsible will pay for employees' salaries and that is where the challenge is, as the finance director failed to raise enough funds due to economic challenges coupled with no payment by our residents and those whom we provided services.
This problem however, will be history as I have the plans to look for other sources of revenue by developing and enhancing our cash cow strategic business units and venturing into business projects of interest to council.
ND: There are claims that the city has been running a parallel payroll. How true is this and has the situation been rectified?
CC: That is an issue that certainly demands clarification; a lot of information very untrue has been reported. Let me set the record straight.
The truth of the matter is that we used to have a payroll for Harare water employees and those from the main city. When Harare came back to the city from Zinwa, it was being managed as a utility, running its own human resources affairs, but I have since corrected that and managed to merge its function into the city. Yes, problems were there as we faced resistance in aligning the Belina payroll for Harare Water and the BIQ payroll for the main city, but finally it is done and I am happy to report that we closed the year 2016 on one consolidated and harmonised payroll for Harare water and other departments of the city.
It is now a department of council and all conditions of service have been harmonised. There is, however, the issue of executive payroll which is currently being run under Belina systems. Even though it is professionally and transparently run, we have since engaged the developer to transfer this payroll into the BIQ systems.
ND: Council's payroll remains bloated with an unsustainably huge workforce, what is your plan to correct this?
CC: I have a specific and measurable three-step process aimed at ensuring a leaner and more sustainable wage bill without compromising either the council or workers.
Firstly, to reduce our manpower and this can be achieved by mechanising and right sizing labour intensive areas like roads construction, grave digging, street sweeping, Morton Jeffrey and Prince Edward Water Works, and public safety.
Also areas affected by technology like revenue collection, static guard duties should be right-sized and excess staff managed.
Affected employees would be properly redeployed and vacancies would not be filled except on critical positions. This will be done without compromising on efficiency and effectiveness. The second process is to start introducing performance-based bonus and performance-based contracts for executives and professionals under the IRBM concept.
Thirdly, I will pursue 40:60 ratio of permanent and contract staff in the long run where the majority (60%) will be hired on contract and locum basis whenever the need arises. This is economic transformation which every organisation is rightfully pursuing.
ND: What should residents of Harare expect from a Chingombe-run city?
CC: I promise as aforementioned to significantly reduce Harare's chief challenges by at least 70% in my first 100 days in office. A Chingombe-led council will preside over a city marked by a decongested Harare. There is no doubt about the need to bring back the city which is as clean as we knew it previously. Timeous collection of refuse and timely payment of workers.
I propose to run a city that promotes synergy between all stakeholders. I will also aim at ensuring that there is co-operation at all levels of the government, councillors, residents, business and investors. Council has all it needs to operate productively and efficiently without anyone being prejudiced.
Likewise, I will tap into all areas that will make council fruitful. Major transformation initiatives with the support from technocrats, political leaders and government will be pursued under the 100% engagement banner, 100% effective communication, 360 degree assessment and 100% workers' commitment. Residents are guaranteed of improved refuse collection, potable tape water supply, trafficable roads, a well-lit Harare, green Harare, well-planned city with co-ordinated activities and guaranteed health delivery and public safety.
Transparent, accountability in the management of city affairs, scheduled periodic meetings with key stakeholders and residents as well as equal treatment of all irrespective of their gender, ethnicity, religion, background, cultural and political affiliation. Harare is one, Harare is mother to us all, and the Chingombe administration will defend it from collapsing and strategically reposition it to its envisioned future.
ND: There are growing haphazard developments of residential areas across the city with every little space being converted including wetlands. What is your plan to curtail this?
CC: What you have said is very true. My plan is simple high-level engagement to solicit for both administrative and political will to face this problem head-on. There is need for the urgent production of the master plan for Harare and surrounding towns so that proper development planning is adhered to.
There is no way Harare can be able to provide safe potable water, health services, waste management and other social service without addressing issues of land barons. I will work with all relevant stakeholders in addressing this, which is key to unlocking developmental potential.
ND: The issue of service delivery remains backward in Harare compared to other cities in developing countries. What do you think should be done?
CC: There is need to further invest in water management. Firstly, complete the rehabilitation of Morton Jeffrey and water transportation infrastructure is key. Once the water treatment plant is rehabilitated and automated, water supply will be improved from the current 540 megalitres a day to over 1 000 megalitres.
The second long term strategy is to pursue the Kunzwi Dam project whose completion would result in lot of savings in water treatment chemicals as currently Lake Chivero is heavily polluted resulting in more chemicals used than what ordinarily could have been used.
ND: The image of the city also remains tattered, do you think you have the required skills to turn it around and achieve the world class city by 2025?
CC: Obviously yes. The city occupies a unique position as the capital city of Zimbabwe. This unique position come with huge responsibilities for promoting investment, creating sustainable employment for its residents, providing sound infrastructure, utilities, housing and social services within a sound corporate governance framework that supports national efforts.
The city's diverse operations and scale have the capacity to contribute to over 20% of the gross domestic product, benefit from research and development opportunities offered by our institutions of higher learning (universities and polytechnics). Harare is expected to provide true visionary leadership for this to happen and as such needs a leader with clear vision and understanding of local governance issues.
I have the skills and capacities needed to influence change in the city. My diverse background is the sound foundation on which my capabilities are built on.
ND: Harare also remains a political battleground in Zimbabwe. Do you think you have the temperament to handle the pressure that comes with running the city?
CC: It is true that when you want to live in the see a better make friends with sharks. There are political, administrative, vocal groups and various associations with special interests on how Harare is run. I will comfortably live and work with them.
Engagement and collaboration are key here. Remember when you are a public administrator, the Constitution requires that you be apolitical and this is exactly what I will live by thereby making it easy for me to interact and engage anyone interested in the affairs of the city.
Harare needs a Chingombe-blended eagle transformation strategy that has the ability to address cultural and political dichotomy within local governance framework. Yes, I have the temperament to handle the pressure associated with the city.
ND: Recently President Robert Mugabe was quoted indicating his anger on vendors who have literally taken over the city, do you have a plan to change the situation.
CC: This is an area in need urgent attention and to be addressed within the shortest possible period of time. The President has already set the pace and what is needed is the strategy and implementation modalities. Without a proper strategy this can blow to unmanageable levels, causing havoc within the CBD.
I have a clear plan which is supported by the model I talked about before. All the relevant stakeholders need to be engaged, proper vending space provided, as well as full utilisation of the already existing stalls which are all over Harare's shopping business centres.
Without proper education and engagement, it might not be possible to remove the vendors. Yes, I have a strategy to deal with the current chaos in the CBD.