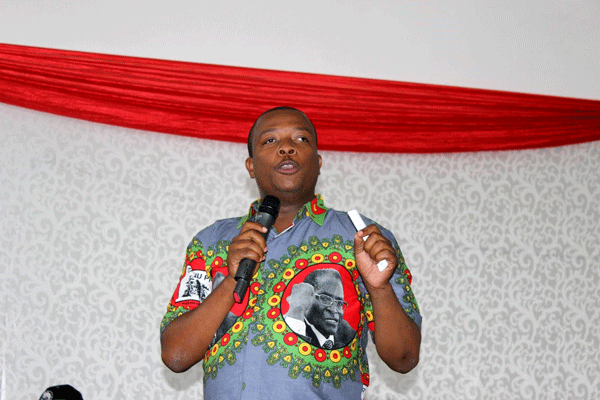 THE Zanu PF youth league has recommended the expulsion of three "controversial" youth leaders, Munyaradzi Shoko, Magura Charumbira and Davis Muhambi, on allegations of fanning violence and indiscipline.
BY OBEY MANAYITI
Zanu PF youth boss Kudzanai Chipanga yesterday said the resolution was passed over the weekend.
"We made a resolution as the national youth executive and the national assembly. We resolved that they should be fired from the party. Charumbira and Muhambi are promoting violence in Bulawayo and Shoko's case is about gross social media abuse," he said.
"He (Shoko) has been warned several times by the youth league leadership, warned even by the President himself and the First Lady too, but he is not showing any signs of remorse despite the fact that his colleagues have repented.
"We are left with no option other than recommend his immediate expulsion from the party. The recommendations came from their provinces, Bulawayo and Manicaland."
Chipanga said they were on a drive to instil discipline within the youth wing.
Shoko is leader of the Children of Zimbabwe War Veterans' Association (Cozwa), which, of late, has clashed with other party structures, while Charumbira and Muhambi stand accused of fanning violence.
Shoko gained notoriety after he appeared on social media networks assaulting and insulting both anti-Zanu PF supporters as well as party supporters, but from a different factional camp with him.
This touched a raw nerve within Zanu PF after President Robert Mugabe and the First Lady Grace Mugabe raised concern over people moving around assaulting people with branded vehicles inscribed with Mugabe's pictures.
Charumbira hogged the limelight in August after his audio recording attacking Vice-President Phelekezela Mphoko ahead of the burial of the late Masvingo Provincial Affairs minister Shuvai Mahofa dominated social media.
He was calling Mphoko, who was to preside over the funeral at the National Heroes' Acre, to stay away from proceedings on the basis that he belonged to a rival faction.
Chipanga said as the country goes for elections next year, it was important to show exemplary discipline to make people love rather than fear Zanu PF.
"It is not good for the organisation to have many youths who are not disciplined. Some youths shall fall by the wayside because of indiscipline. We don't expect to have barbaric people among us. We want youths who are enterprising, patriotic and disciplined," he said.
"The President in on record calling for unity in the party, no abuse of social media, no to violence and we cannot keeping on engaging few individuals who are keeping on engaging in gross social media abuse and violence at the expense of the party."