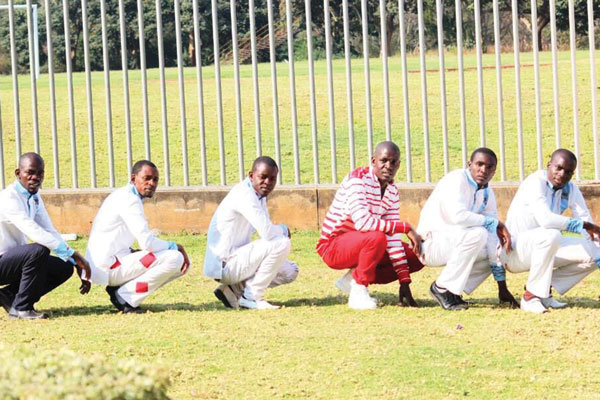 CHORAL music outfit, Vadzidzi Vekutanga, who are well-known for their energetic dance routines, yesterday dropped their sixth album – Nharo Nedenga.
BY JAIROS SAUNYAMA
The ensemble — which plays Boterekwa music characterised by the blowing of horns, beating, drums and shakers — is currently enjoying bookings at weddings, funerals and other social gatherings.
The six-track album, according to the group's leader, Richard Mapfumo, consists of songs that encourage Christians to be persistent in asking for spiritual gifts.
"We are happy that our sixth offering is out and we pray that it will change the listeners' lives. The music journey is not easy but we are happy that we are here," he said.
"The main theme of the album is to encourage believers to keep on asking God for blessings and spiritual gifts and this is well-articulated in the title track."
The songs on the album include 40 Years a track dedicated to the Methodist Church in Zimbabwe (MCZ), which is having its autonomy celebrations this year.
The group was born out of the MCZ in the border town of Beitbridge in 2006, but has since lured other talented singers from other church denominations. It now boasts of members drawn from Zaoga FIFM, Apostolic Faith Mission, United Methodist Church and the Church of Christ.
"We do not rely on songs from the MCZ hymn book, but we write our own," Mapfumo said.
The outfit's latest release comes after Kanganwiro (2009), Ngarava Yesvitsa (2010), Makatinzwira Ngoni (2013), Voshambira (2014) and Ngoro Yemoto (2016).