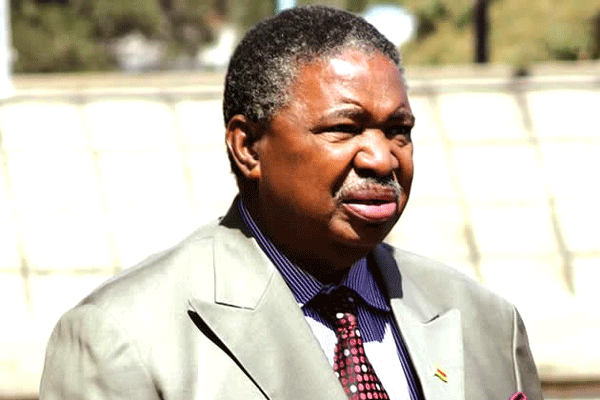 THE Zimbabwe Anti-Corruption Commission (Zaac) investigators have claimed Vice-President Phelekezela Mphoko was interfering in their operations, adding they had since sought President Robert Mugabe's intervention in the matter.
BY VENERANDA LANGA/PAIDAMOYO MUZULU
Zacc chairperson Job Whabira yesterday told members of the Parliamentary Portfolio Committee on Defence that the biggest culprit in interfering with their operations was Mphoko. Whabira told the Ronald Muderedzwa-led committee that there had been political interference in the commission's work.
"Political interference by Mphoko is among some of those elements that impinge upon the independence of the commission, but these will be resisted, as we forge ahead because the Constitution gives us power to complete investigations without fear or favour," he said.
"On VP Mphoko's issue, what happened is that we (Zacc) took the issue to the President through the chief secretary to the Cabinet, Misheck Sibanda, so that they take action on the interference."
Whabira said he had approached Mphoko to discuss the issue of his interference in Zacc investigations.
Musikavanhu MP Prosper Mutseyami (MDC-T) had pressed Whabira to explain what action had been taken on Mphoko after he allegedly stormed Rhodesville Police Station and ordered the release of two Zimbabwe National Roads Administration bosses, Moses Juma (then acting chief executive officer) and board member Davison Norupiri, who had been arrested on corruption allegations.
Buhera East MP Joseph Chinotimba (Zanu PF) said Zacc must be disbanded because it had failed to bring to book bigwigs implicated in corruption, as well as to combat corruption, resulting in the country being rated the second worst in the world in corruption rankings.
Chinotimba demanded to know if it was true that Vice-President Emmerson Mnangagwa was also interfering in the work of the anti-graft body by ordering Zacc to go after his political rivals.
Whabira said there was no interference from Mnangagwa, adding he had only met him once since the commission started its work in February last year.
He said they report to Mnangagwa, who is the head of their parent ministry (Justice), as well as to Parliament, but whenever there was political interference by bigwigs, they report the issue to the President.
Whabira was then asked to further explain if those implicated in corruption and were freed by Mphoko had been arrested.
He said Juma and Norupiri's case was now before the courts.
Zacc was then asked to explain what had stopped the arrest of Higher Education minister Jonathan Moyo when he was implicated for abusing almost half a million dollars from the Zimbabwe Manpower Development Fund.
The legislators said failure to deal with high-profile corruption cases and to investigate those implicated for graft in Auditor-General Mildred Chiri's reports had resulted in people losing confidence in Zacc.
"Up to today, it has become a dead case and we now hear that Moyo is clean," Mutseyami queried.
Wabhira responded: "Moyo's case was taken to the Constitutional Court after he appealed.
"The court made a reserved judgment and we cannot complete the case because it is sub judice (before the courts)."
Zacc complained of lack of resources and staff shortages, adding they had concluded only 12 investigations of the 421 cases they handled since February 2016.
"Out of these, 136 were non-mandate offences," Zacc acting secretary Silence Pondo said.
"In terms of the Constitution, we only deal with specific offences. So far, we have closed 145 cases and 12 cases were referred to court for prosecution. The 12 cases involved fraud, money laundering and corruption. The National Prosecution Authority is handling the cases."