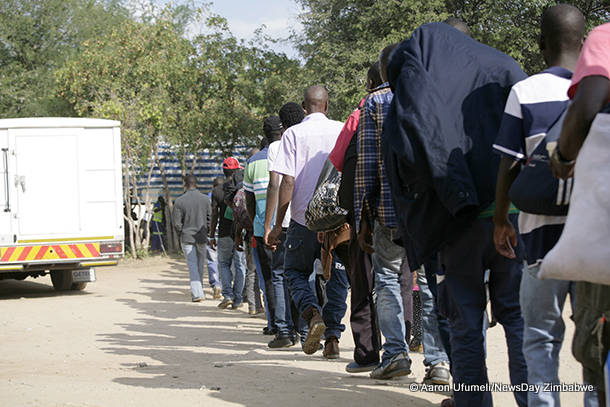 SIXTEEN-YEAR-OLD Munashe Mhanda sits at the Beitbridge border waiting for his chance to cross into neighbouring South Africa. He is fully aware of the dangers that await him, but the young man from the Chikombedzi area has got no option, but to cross the crocodile-infested Limpopo River to seek greener pastures.
BY JAIROS SAUNYAMA
It is not his choice to migrate using dangerous routes, but Munashe is not a holder of a valid passport and neither does he possess an identification document.
"I have no option, but to take the illegal and dangerous route. I would love to gain entry into South Africa using a passport, but I do not have even a birth certificate. I am following my father who left us many years ago," he said.
This is not about Munashe's predicament only, but a number of children in the country have no identification documents. Due to the current economic hardships, many of them have been migrating to neighbouring countries, mainly South Africa, with no proper documentation, thereby making it difficult for them to get employed as well as to be re-united with their parents if they get arrested by law enforcers in foreign land.
Child rights lobby group Destination Unknown Zimbabwean Chapter (DU) have come together to protect the rights of children on the move (CoM) and is currently calling on all governments and various stakeholders to assist in the registration of children.
DU is sponsored by Terre De Hommes (TDH) Germany. CoM refers to all persons below the age of 18 who have left their place of origin or home with or without their parents, adult companions or primary caregivers. Trafficked, unaccompanied, migrant, in street situation, kidnapped, forced into displacement, refugees, asylum seekers, nomadic — these are some of the different categories of CoM.
Recently, local legislators from the Health and Public Service portfolio committees met with other stakeholders and revealed that a number of children were struggling to get the needed documents and registration due to a number of reasons among them abuse of office.
Child rights activist Samuel Mandiwana said unregistered CoM faces a lot of challenges among them difficulties in efforts to re-unite them with their parents if need arises.
"When children and youths are not registered and are on the move, a lot of challenges are encountered. Firstly, it is difficult to trace the families of the children since they will have no documentation and reunification is difficult.
"Moreover, when they successfully migrate to other countries in search of jobs, they are always in hibernation of the police since they fear deportation. When they encounter abuse, they fear to report to the police since they have no legal papers and are scared of being detained as illegal immigrants. Unavailability of birth registration hinders children from acquiring documents which allow them to move freely to their destinations," he said.
According to Unicef an estimated 50 million children are on the move in the world today. Millions more have been deeply affected by migration.
According to Childline, 65 cases of CoM (46 males, 19 females) have been attended to in Chiredzi and according to gender there are more boys on the move as compared to the girl child. However, all CoM face the same challenges of exploitation, be it child labour, sexual exploitation and physical abuse.
Local legislators who attended a breakfast meeting in the capital recently to deliberate on best possible ways to assist children on the move said obtaining a birth certificate was still a daunting task in the country.
Kadoma Central Member of Parliament Phanuel Phiri said officials at the Registrar-General's (RG) Office were turning away people over unnecessary requirements. He also said some parents were failing to secure birth records as clinics and institutions demand payment of $10.
"A certain woman came to me so that I could assist her in obtaining birth certificates for her two children. But she was told to go to Gokwe where the father's children reside. It is weird.
"Moreover, some clinics and hospitals demand $10 for a birth record. They say it's a regulation to charge that fee. The mothers cannot afford that," he said.
However, speaking at the same event, former Health deputy minister and Gutu South legislator Paul Chimedza said it was not government policy for medical institutions to withhold a birth record because of non-payment of a fee.
"Parents need to be educated that it is not government policy for hospitals and clinics to withhold a birth record and demanding money for it. The parents should contest it. In fact, there is need for legislators and other stakeholders to sensitise parents on the issue," he said.
Meanwhile, the RG's Office has been urged to implement the much-hyped mobile registration process so that a number of children especially in the rural areas will have documentation.
Zimbabwe National Council for the Welfare of Children (ZNCWC) director Taylor Nyanhete said government, through the RG's Office, should conduct mobile registration even once a year in the rural areas.
"We are seeing a number of children crossing into neighbouring South Africa for greener pastures unaccompanied and without any registration documents. This is also a burden to the receiving country.
"We continue to speak to the issue of mobile registration and it works more than any other method because it gets to the village, it gets to the ward. The parents who want to register their children and relatives find it easy to walk to that mobile unit. Even if they want supportive documents, it is easier to walk back home to collect them," he said.
Nyanhete said government launched the programme and should roll it and not wait to do so during election time.
CoM are protected from all human rights violations, in particular children rights as enshrined in the United Nations Convention on the Rights of the Child of 1989 and the African Charter on the Rights and Welfare of the Child of 1999, which encompass every child's rights to provision, protection and participation (the 3Ps).