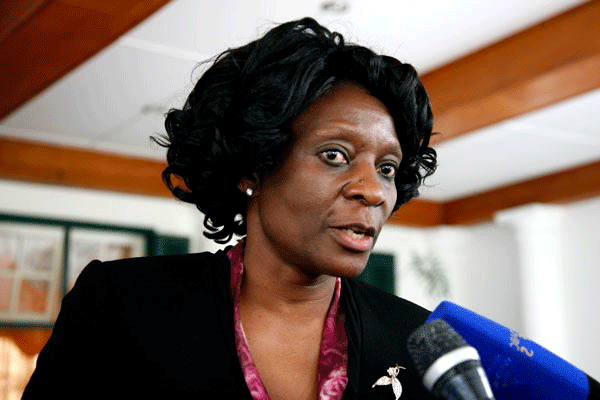 THE Zimbabwe Electoral Commission (Zec) has said there is no going back on the distribution of voter registration centres, despite claims by opposition parties that the electoral management board had allocated fewer centres in its perceived strongholds.
BY OBEY MANAYITI
Addressing journalists in the capital yesterday, Zec chairperson, Rita Makarau said their distribution pattern was informed by a scientific methodology, adding there was no sinister motive to short-change opposition supporters as claimed.
This comes as MDC-T youth threatened to demonstrate tomorrow over Zec's "uneven" distribution of voter registration centres.
"We will not stay in the way of their demonstrations. It's their democratic right to demonstrate," Makarau said.
"We have reached out to them (opposition parties). We had a meeting with political parties late last week, where we gave them this information and during that meeting, we made it clear that we were open to receive their representation on how we can improve on the distribution plan that we have come up with.
"We did indicate to them that we were trying to be very scientific in our approach. We are trying to be fair in our approach, but if they can find a way of improving on those objectives and scientific criteria, we are welcome to receive those. They can still demonstrate while they are talking to us, we welcome both."
She said they will have a meeting with political parties tomorrow to coincide with the MDC-T's planned demonstration, but emphasised: "If they think they can get answers in the street, they are free to do so."
Harare and Bulawayo, generally regarded as opposition strongholds, have 700 and 400 centres, respectively.
Makarau said their decision was influenced by population density, settlement patterns, expansiveness or the provinces' and districts' physical features such as rivers and mountains, as well as the 2012 census projections.
She said the time frames to commence voter registration would be determined by the delivery of the biometric voter registration (BVR) kits, adding the process could take about two and a half months to complete.
Makarau revealed that they had met the payment requirements for the BVR kits to Laxon Group of Companies and they were now expecting the kits to be delivered.
"We have now paid the required 50% deposit to the supplier. If you were following reports in the media last week, we did inform political parties that we were required to make a 50% down payment before the supplier would deliver the kits," she said.
"I am happy to announce that 50% deposit has now been paid. We are now holding very serious conversations with the supplier to find out when they will make the first delivery."
Makarau said those without proof of residence would have to draw up affidavits with details of where they stay.
The Zec chairperson said although they received a different server from the United Nations Development Programme, they were not going to use the one used by the Constitution Parliamentary Committee (Copac) because it still had Copac data.
Zec plans to register seven million people in an exercise that will take approximately two and a half months.