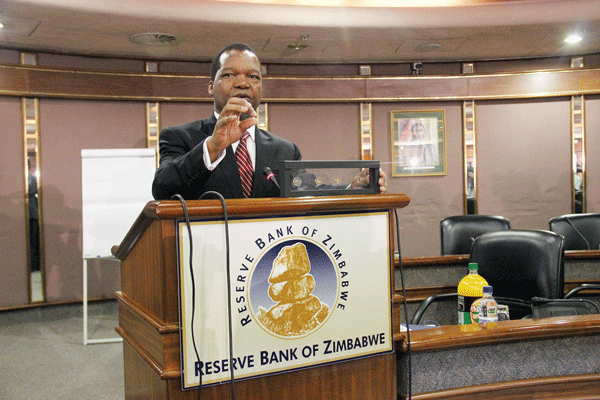 CASH shortages are set to continue unabated as the Reserve Bank of Zimbabwe's (RBZ) monthly economic review for April recorded that 2,51% or $153,53 million of broad money supply was the currency in circulation, against optimal levels of 15%.
BY TATIRA ZWINOIRA
Currency in circulation is the currency that is physically used to conduct transactions between consumers and businesses rather than stored in banks, financial institutions or the central bank.
In the RBZ's April monthly economic review, on a month-on-month basis, broad money supply grew by 4,03% to $6 116,8 million from $5 879,9 million in March 2017.
"The expansion of money supply, in part, reflects injection of new money into the banking system through tobacco sales, for which $206,4 million worth of tobacco had been sold by end of April 2017," RBZ said.
"The composition of broad money during the month of April was as follows: transferable or transitory deposits 71,43%, time deposits 25,02%, currency in circulation 2,51% and negotiable certificates of deposits 1,03%."
RBZ said the broad money supply over the year to April was up 22,67% from last year's comparative period's $4 986,3 million.
The April currency in circulation figure is significantly lower than the preferred level of 15%, which international best practice states should be the amount of cash in circulation against total deposits.
For Zimbabwe, the currency in circulation mainly refers to United States dollars, bond notes and coins, as these are the predominant currencies used in the country.
Analysts say the April figure shows that the state of the cash shortages has been seriously played down.
Financial expert, Persistence Gwanyanya told NewsDay yesterday that the low RBZ figures spoke to two things; supply and demand.
"The supply factors being that the generation of cash every day is dwindling and we are losing cash from the formal system into the informal system and also out of the country," he said.
"This is occasioned by the consumptive and import depended nature of the country.
"Obviously, the issues of externalisation have also conspired to worsen the situation. We are losing money we are not generating money as a country."
Early last week, central bank governor, John Mangudya said they had put about $160 million worth of bond notes on the market.