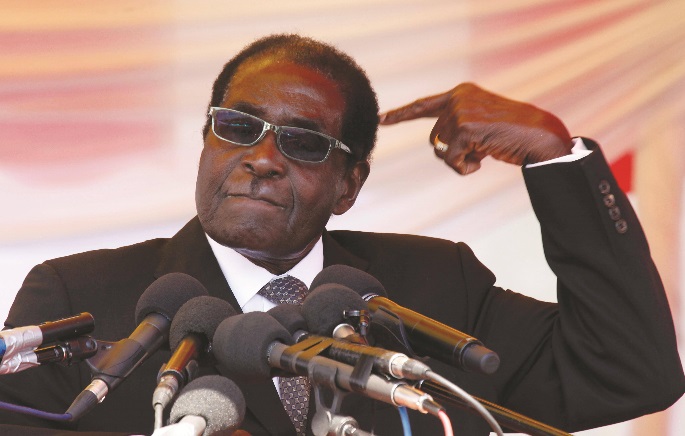 PRESIDENT Robert Mugabe and three South African ministers were the most prominent names on a list of people South African Elvis Ramosebudi allegedly wanted to assassinate, affidavits produced in court in the neighbouring country have revealed.
Staff Reporter/TimesLive
Ramosebudi appeared in the Johannesburg Magistrate's Court on Friday to apply for bail.
The alleged assassination plans' which named Mugabe' were in documents police found in Ramosebudi's home in Soshanguve' near Pretoria.
In opposing Ramosebudi's bail application, the State provided some insight into the evidence against him.
The Hawks had arrested Ramosebudi for allegedly plotting a coup' but last week the State changed the charges from conspiracy to commit murder to incitement to commit murder.
On Friday' prosecutor, Johann Badenhorst detailed the State's case against Ramosebudi by reading out an affidavit by investigating officer, an MF Sewele.
"The first three targets to be neutralised will be David Mahlobo' then Ace Magashule then Mosebenzi Zwane'" according to Sewele's affidavit.
"These confiscated documents still need to be investigated. These documents included further assassination plots against the President of Zimbabwe …"
Badenhorst said the state was opposing bail because "there is a likelihood that' if released on bail' [he] could endanger people."
He said Ramosebudi had written letters to Anglo American and to businessman Atul Gupta' who has close links to President Jacob Zuma.
In his first letter' titled Help Save South Africa' he asked Anglo American for R60 million to help him assassinate many people.
The list included Atul' Varun and Rajesh Gupta' Zuma' SAA board chair, Dudu Myeni' Co-operative governance minister, Des van Rooyen' ANC Youth League president, Collen Maine' National Prosecuting Authority head Shaun Abrahams' Economic Freedom Fighters member, Fana Hlongwane' Military Veterans chairperson, Kebby Maphatsoe' former Eskom chief executive, Brian Molefe and Eskom chairperson, Ben Ngubane.
In his second letter' titled Hands off the Guptas' he asked Atul Gupta for money to assassinate former ANC MP, Vytjie Mentor and former deputy Finance minister Mcebisi Jonas' both of whom were offered Cabinet positions by the Guptas' former public protector, Thuli Madonsela' and Themba Maseko' for whom Zuma had arranged a meeting for him to "help" the Guptas.
Badenhorst told the court that the police were not sure whether Ramosebudi's letters were a hoax.
Sewele said in his affidavit that a policeman' acting undercover' he pretended to be interested in helping Ramosebudi and met him on April 26. The meeting was secretly recorded and filmed.
Ramosebudi allegedly told the undercover officer he wanted to use food poisoning and a sniper rifle to assassinate people.
He allegedly said he knew where the people on his lists lived and what their movements were. The killings were allegedly to be made to look like robberies.
Ramosebudi confirmed to the undercover policeman that he had written the letters' Sewele's affidavit said.
He also allegedly said that if these people were not assassinated' there would be a civil war if the ANC loses the elections in 2019.
"It is not only about state capture and but about protecting democracy."
According to Sewele's affidavit' Ramosebudi took investigators to his shack, where they found documents showing he planned to assassinate Mugabe.
"The father of accused was not willing co-operate to explain or answer questions if [his son] had mental illness or symptoms of mental problems'" Sewele said in his affidavit.
Through an affidavit read in court by his lawyer' Motebang Ramaili' Ramosebudi said he has a girlfriend and seven-year-old daughter.
He also agreed not to interfere with the case if released on bail.
The case has been postponed to Monday for judgment in the bail application.